Starting a Business While Raising Kids Alone
by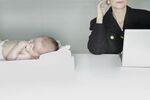 Question: I'm a newly single mother, recently divorced and wondering how to start over after being out of the workforce for 10 years. Is starting my own business a good idea?
Answer: Many single mothers find themselves in your position, needing to generate income but realizing their skills and business contacts are out of date. For some, starting a business is an appealing option, particularly if they think they have great ideas and assume being their own boss will give them the flexibility to work around their young children's schedules.
A March 2013 American Express OPEN report (PDF) on women entrepreneurs based on U.S. Census data counts 8.6 million U.S. businesses, majority owned by women, that generate more than $1.3 trillion annually and employ nearly 7.8 million people. From 2007 on, the net 5.3 million jobs that have been added to the economy have come almost entirely from large public companies and women-owned private businesses, the report says.
But starting a business is risky and time consuming, and particularly if you're new at it, it will likely be an all-consuming process for the first several years, says Denise Marinacci, a bookkeeper and small business consultant at Flaunt Financial in Seattle. "I have several single female clients who have children and several who are divorcing with children. It's a real struggle for them to figure out the financing and keep their focus on the business with all the emotional storm around them," she says.
Helen Stefan had worked in corporate communications for tech companies before she and a partner founded Evoke Multimedia in Boston in 2012. The consultancy puts together multimedia productions for nonprofit and corporate clients focused on community development.
The biggest challenge of a startup is inconsistent income, Stefan says. "You can't budget from month to month, so you go through your savings, and if you don't have anyone else to fall back on, you're taking a huge risk." But the process involves a trade-off: "When I was in the corporate world, I could always pay my bills, but there was no passion around what I was doing. And I'm experienced enough to know that there's no real security there, either. I was laid off when the tech bubble burst after six years of holding senior positions."
Another tradeoff is the time that Stefan can spend with her son, whom she adopted four years ago. "You really work around the clock, day and night, and you have to be willing to do that. I actually like it, because when my son comes home at 2:30, we do his homework, and I make sure he's settled—and then I may work again after dinner until 11:00 o'clock or later," she says.
Many times, women entrepreneurs hold themselves to an extremely high standard, Marinacci says. "We're supposed to do everything: Run the PTA, work, have kids who get straight As. God forbid anything bad happens, and the finger's pointing at us." The stress that causes may be too much, particularly combined with the recent breakup of a marriage, she says.
It helps to surround yourself with supportive mentors and friends who will tell you the truth about your business, but in a kind way, she says. "Grand ideas must be vetted thoroughly. Listen to what people say and then ask more probing questions. Make sure you're choosing people who will be honest with you and not sugarcoat anything. That takes some bravery, and you have to be willing to listen."
Researching, networking, and budgeting are all also imperative. "You need to really watch your pennies and earn your way into that fancy computer or expensive pastry display case that is way outside your budget," Marinacci says.
Amy Norton has saved $10,000 to get her Seattle bedding company off the ground and has been working on the idea for more than a year, since just after she and her now-ex husband separated. Although she did not work during her marriage, she says, "I have always been a creative person and had a nagging desire to do something entrepreneurial. Plus, I haven't been in the workforce for 17 or 18 years, and the whole thing has changed since I was there. I wonder if maybe I don't have the skills to offer in a formal business setting anymore."
So far she has spent $1,500 on legal paperwork and product design, and she is working on getting her first prototypes made. "I'm being very creative about my sourcing and keeping a tight budget. I'm willing to sink the full $10,000 into things like Web design, samples, and packaging if what we come up with really takes off," she says.
Marinacci warns her clients to evaluate risk fully and opt for a return to the traditional workforce if money is tight. "Don't sink all your divorce settlement into a business. That's something you need to preserve for your own security, like housing and your children's needs. But if you can invest in and grow a business, you may wind up with a nest egg that will serve you well in the long run."
Send more questions on challenges you face in your business. I will interview experts and distill their insights into answers.
Before it's here, it's on the Bloomberg Terminal.
LEARN MORE