New York's 'Citi Bike' Invasion Is Nigh; Merchants Are Wary
By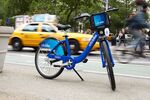 Next month, thousands of blue two-wheeled tanks may invade the streets of New York City, at long last. The largest public bike-share program in the U.S.—comprised of 10,000 "Citi Bikes" and a constellation of 600 docking stations across Manhattan and Brooklyn—was on track to launch last summer before it was hobbled by "software problems" and eventually delayed until the spring.
This week, the bicycles' flashy solar-powered docks have emerged in Brooklyn in the first sure sign the program is officially moving forward. The city's Department of Transportation announced that it expects to have 5,500 of the bikes in service by May, which are funded by Citibank and MasterCard for a combined $47.5 million.
Local businesses have mixed feelings about their new three-speed neighbors.
"It could be a good idea or a bad idea," says Chris Escobar, a part-time manager at Rick's Liquor on the corner of Clifton Place and Bedford Avenue in Brooklyn's Bedford-Stuyvesant neighborhood. "It might be good for business. The only subway out here is a G train, which is the worst train in the world, so I think it's a good idea for transportation—a great way to get around. But graffiti may get on it, and it may make the neighborhood look even worse."
Nineteen docks were bolted to the pavement outside Rick's on April 8, and Escobar says the shop's owner is less than pleased. "Yeah, he's really pissed off," says Escobar. "The docks block our access to the roof that we need access to for our AC unit. We don't have access to the roof from the inside, so we have to use a ladder, which is now going to have to go over the docking stations."
Victor Kolesnyk is the owner of Victory Vision Care, an optical store located at the corner of Dean Street and Fifth Avenue in Brooklyn's Park Slope. Later this week, 56 docks will be installed along one side of Kolesnyk's store. One window lining the shop will be filled with the bright blue bikes.
"My main concern is garbage," says Kolesnyk. "With more people comes more garbage. But I am green-oriented, so at the same time I think the bikes are a big advantage for New York City."
Kolesnyk says he doesn't expect any boost in business from the increased foot traffic around his store. "Even the opening of the Barclays Center didn't affect business," he says. "But my adage is to be neutral: I doubt I'll lose business, and if I gain business, then great. But I'm not counting on it. I don't see any disadvantage of that."
Before it's here, it's on the Bloomberg Terminal.
LEARN MORE