business
Miami Marlins Now Literally Turning Fans Away
By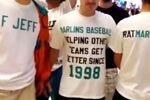 When I talked to Miami Marlins President David Samson about the widespread anger toward team owner (and his stepfather) Jeffrey Loria, he repeatedly told me how sorry he was that fans felt alienated after the Marlins traded away most of their top talent this past offseason. "To have even one person not want to watch or go to a game because of me or because of Jeffrey makes me disappointed and sad," he said.
Apparently, his sympathy doesn't extend to fans who show up to voice their protest. At the Marlins home opener yesterday, according to the Palm Beach Post and the Sun Sentinel, a group of fans with "Free the Marlins" signs and T-shirts that read "F Jeff" and "Marlins Baseball: Helping Other Teams Get Better Since 1998″ were escorted out of Marlins Park by police. Samson told the papers that the group was being unruly and refused to show identification.
The fans, who keep a website called Rage Against the Marlins, dispute this version of events. "We were drawing no more attention to ourselves than anyone else casually walking to our seats," a post on the site reads.
Either way, the incident is yet another example of the team's spectacular ability to create bad publicity. In March the Miami New Times reported that the team threatened to sue a pair of longtime season ticket holders who wanted to be moved to new seats. Loria may have the letter of the law on his side in both cases. He usually does. But as former MLB commissioner Fay Vincent said to me, "Somebody has to start being nice to the public down there."
Before it's here, it's on the Bloomberg Terminal.
LEARN MORE