pursuits
I Quantified Myself And All I Got Was This Addictive App
Dave Rosenberg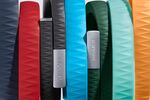 Last week I needed to do some research on wearable computing so I headed to Apple store in San Francisco's Union Square to pick up some health and fitness gadgets that would help me quantify myself.
After clawing my way through tourists, German backpackers updating their Facebook status, and a woman losing her mind because her iPhone wouldn't sync with her laptop, I found my way to the accessories where a helpful employee took me through many of the available options for wearable quantification. Two things became immediately obvious.
One: while gadgets tend toward the shiny and metallic, wristbands, pedometers, and such are mostly in matte colors—at least the popular ones, suggesting that you want to keep your quantification hidden or at least subdued. I felt good about that.
Two: On some level I'm the target market for pretty much everything that is sold in the world today. I'm in 35-49 age bracket, live in a tech-obsessed metropolis, and waste a fair bit of disposable income on gadgetry. There are so many options for app-enabled accessories that I was forced to setup a decision-tree on the store floor. It was working until a toddler kicked a Sphero ball into my device-based parallelogram. The upside is that I walked away from an iPhone connected lightbulb and a pet tracker, which was good because I don't have a pet.
Eventually I settled on the Nike+ FuelBand and the Jawbone UP. I didn't go for the Fitbit because I wanted the wristband-style and the company, while arguably the leader in the space, hasn't yet started shipping its wrist-based offering.
I took my purchases home, plugged them in for charging—no, neither of them work right out of the box—and fired them up. Kinda. I had to go the App Store and get both apps, then plug the FuelBand into a computer to configure it, then connect the band and my iPhone via Bluetooth. Easy enough, if a bit annoying. The UP plugs directly into your phone but the app took a few tries to remember my profile. And the sync'ing of your bracelet and the app isn't terribly obvious—in fact I couldn't find it for a bit until my 6 year old daughter swiped the app and it popped up. Eventually I got everything to work and measured myself for a few days.
Both devices keep track of steps, active time, calorie burn, and a few other metrics. Nike has created its own "Fuel" measurement, an amalgam of your activities. As a guy who loves made-up statistics, Fuel was my holy grail. I still don't know what Fuel means, but I crushed it.
Measurement was inconsistent and seemingly arbitrary. I've yet to figure out how the two devices had such major discrepancies when I was wearing both of them simultaneously on the same wrist. These discrepancies may cause anxiety about meeting your targets. To paraphrase the old saying about the man with two clocks, carrying two fitness trackers means you never know the number of steps you've taken.
Also, wearing both may cause anxiety that you look like a dork. I definitely got that feeling at the gym; while running in Golden Gate Park, not so much.
It's important to note that the majority of the products in this space are more systems than they are apps or standalone devices. You need to have the hardware and the software together in order to get anything out of them. And eventually you may want to track yourself against others. Nike has already opened up the developer APIs to build new apps and integrate data, and presumably the other vendors will as well if they haven't already.
The systems I tried each had a few quirks that made them slightly less appealing. The UP requires you to plug the bracelet into your smartphone to sync which got old very fast, but it looks cooler than the Fuelband. The Fuelband's "Fuel" measurement could go either way but most people can't measure their fitness based on arbitrary statistics.
Realistically anything that gets people to exercise more is a good thing. And this experiment has made me a very strong believer in the broadly defined wearable computing for health and fitness product category. It's nice to see highly addictive applications that don't involve flinging birds or farming virtual carrots.
Before it's here, it's on the Bloomberg Terminal.
LEARN MORE