How Paying for Text Messages Is Like Paying for Porn
by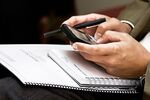 Text messages are going the way of checking accounts and porn: There are too many free options to justify paying for them.
Third-party texting apps such as Whatsapp, Kik, and WeChat are experiencing explosive growth—WeChat has a reported 300 million users—as consumers turn to these free (or, in Whatsapp's case, 99¢) apps to send messages to friends and family. By using one of them instead of a smartphone's default texting feature, users can send as many texts as they want, without them counting against any text-message allotment from their wireless carrier.
Many people today have unlimited texting, so the idea of free texts may not be all that enticing. But there are other reasons why people find these apps attractive. Unlimited texting usually applies only to domestic messages. Send a text to someone out of the country (or travel out of the country yourself), and each message can cost between 10¢ and 25¢. Use a texting app, and all texts remain free, worldwide.
These apps do take away money that might be going to wireless companies, but at least one of the major carriers doesn't seem too worked up about it. "Customers who choose to use those apps are doing so inside of a data plan, and they are paying for the data plan," says Verizon Wireless spokeswoman Brenda Raney. She's right, but it should be noted that the amount of data an average text message uses is almost immeasurably small, so its effect on data consumption is negligible.
There is one catch to these services. They require that both sender and recipient use the same app. In that way, traditional texting has an advantage: It's universal, as all you need to text someone is his or her phone number. To work around their limitations, such apps as Whatsapp try to make the setup simpler by automatically combing through your phone's address book, if you let it, and finding all your contacts who are already Whatsapp users.
Third-party app services are not limited just to apps that many people haven't heard of. For years, BlackBerrys had an advantage over competitors with the BlackBerry Messenger (BBM) service. BlackBerry users could communicate with other BlackBerry users, free of charge, using the wireless-data plan they were already paying for. Apple did a similar thing when it introduced iMessage in 2011, allowing users of its smartphones to communicate with each other using text with no additional costs incurred. While apps such as Whatsapp, Kik, and others require both parties to use the same app, they are not tied to hardware or an operating system, so a WeChat user on a Samsung Galaxy S can freely text with another WeChat user on an iPhone.
These apps, with their burgeoning user bases, may be attractive to more than just consumers. While they don't generate any significant revenue, accounting for a tiny fraction of the $200 billion mobile messaging market, they have huge user bases, which is never a bad thing. Several services have more than 100 million users each, and a couple of dozen or so have at least a million apiece, according to Enders analyst Benedict Evans. Whatsapp, in particular, has long been subject to suspicions it will be acquired by a larger company. "If you have eyeballs," says independent mobile analyst Chetan Sharma, "you might find a way to monetize them."
Before it's here, it's on the Bloomberg Terminal.
LEARN MORE