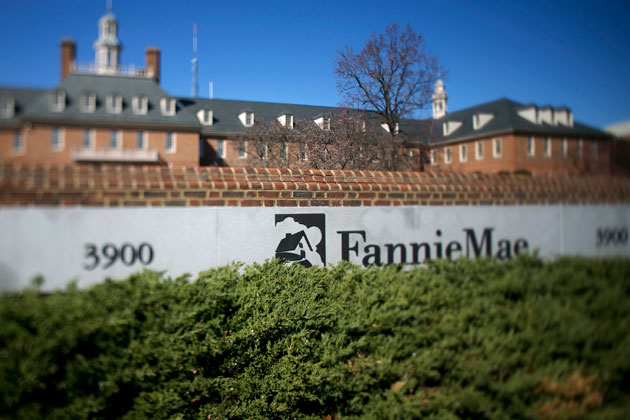 Everyone agrees that Congress must find a way to wind down Fannie Mae and Freddie Mac, the failed mortgage giants. For the moment, though, some in Washington may be happy they're not gone yet. Thanks to the economic recovery and the housing rebound, Fannie and Freddie are profitable again. They're throwing off so much money, in fact, they may be able to buy Congress an extra month to get its act together on raising the debt limit.
Our colleagues at Bloomberg News reported that Fannie Mae and Freddie Mac may send about $100 billion to the U.S. Department of the Treasury in June. That's as much as former Treasury Secretary Timothy Geithner estimated the federal debt grows each month.
The government still owns most of Fannie and Freddie, which received a combined $187.5 billion in taxpayer bailout funds. Under an agreement last year, Fannie and Freddie must turn over most of their profits to the Treasury Department. Including dividends sent before last year's agreement, they've paid the government a total of $65.2 billion.
Last week, when Fannie announced its $17.2 billion in profit for 2012, Jim Carr, a senior fellow at the Center for American Progress, said in a statement the money shouldn't be used to fund government operations. The company is now in a position to repay the government, "build a capital reserve to hold against future losses, and contribute to the National Housing Trust Fund" as required by the 2008 Housing and Economic Recovery Act, he said.
Of course, giving Congress an extra month may not lead to a deal—it might just prolong the agony. And with Fannie and Freddie minting money, Congress may feel less pressure to figure out a better way to support the housing market.
Before it's here, it's on the Bloomberg Terminal.
LEARN MORE