Ray Lane, Hewlett-Packard, and the State of Corporate Governance
Jeffrey Pfeffer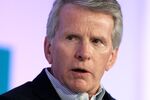 With the resignation of two directors and Ray Lane's relinquishing his role of board chairman, the turmoil at the top of Hewlett-Packard, a tale of almost soap opera proportions, continues. But HP's story is scarcely unique. Many companies make unsuccessful acquisitions, boards continue to search for corporate saviors from the outside, and few directors suffer any consequences for overseeing catastrophic problems. All this provides evidence that corporate governance remains a problem in many publicly traded companies.
Let's begin with some facts. It is almost impossible to overstate the devastation wrought by an HP board that couldn't shoot straight.  Although recent commentary has focused on the ill-fated Autonomy acquisition and an associated $8 billion charge, that is scarcely the only snafu. As Pete Carey of the Mercury News documented last fall, HP since 2008 has spent some $32 billion on acquisitions, which included Electronic Data Systems ($8 billion writedown of the $13.9 billion purchase price) and Palm ($885 million writedown of the $1.2 billion purchase price). In the fall of 2012, HP's market capitalization was $10 billion less than it had spent acquiring companies over the preceding four years. And speaking of acquisitions, there was also the controversial deal for Compaq that left HP with a dominant position in the low-margin and slowly disappearing personal computer industry.
But it's not just in overseeing ill-fated acquisitions that the H-P board has failed.  One of the most important responsibilities of boards is to ensure effective leadership development and succession. Indeed, HP used to be a source of talent for the entire Silicon Valley. It was a company that practiced promotion from within and had an organizational culture that inspired admiration. When David Packard died in 1996, the company's stock price was about $100 a share, and the Economist obituary noted that "some 25 of the Valley's top executives are HP alumni."  
No longer. George Anders, who wrote a book about the company, has persuasively argued that HP's lousy acquisition record is due in no small measure to its constant board reshuffling and revolving door of outside chief executives brought in as the organization tries to find its salvation in external hiring.
Unfortunately, much of this tale is all too common. As Bob Sutton and I noted in a book on evidence-based management, too few companies base their strategies on facts, and the evidence is clear that most acquisitions are failures.  Harvard Business School professor Rakesh Khurana noted the rise of outside succession and how flawed the external search process frequently was, while his colleague Boris Groysberg has documented the limited circumstances in which talent, even if it can be accurately identified, is portable—in the sense people of performing equally well in a new company.
Meanwhile, few directors suffer from overseeing succession or acquisition failures or even from more outrageous scandals. No one from the Enron or Worldcom boards was prosecuted because of those massive frauds, and it would be tough to name, let alone observe, any adverse consequences for the directors on the boards of Citicorp, Bank of America, Countrywide, Lehman Brothers, Bear Stearns, or any of the other financial disasters requiring government bailouts.
So while proxy advisory firms such as Institutional Shareholder Services do, on rare occasions, recommend against some board member or slate of candidates—something that occurred in the recent HP annual meeting—mostly nothing happens. No accountability = no change. Even though there is lots of talk about corporate governance and its improvement, I, for one, don't see much action.
Before it's here, it's on the Bloomberg Terminal.
LEARN MORE