Post-Easter Blues? Choc It Up to Desire
by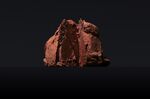 The bunny has left the building, and dammit, you still want chocolate. Thankfully, it isn't a seasonal dessert, and it isn't an extraordinary indulgence, either, like that Japanese puffer fish. (Nor, in moderation, will it kill you.) A Maison du Chocolat dark truffle has a fraction of the calorie content of a packet of ranch dressing. How often do you hear people describing Newman's Own as "sinful"?
So let's call chocolate what it is -- a very pleasant, entirely reasonable dessert. The one thing that stands in the way of champagne truffles replacing potato chips as America's favorite snack food? Cost. Here are some of the best, and priciest, chocolates you can buy .
James Tarmy reports on arts and culture for Bloomberg Muse, the arts and leisure section of Bloomberg News.

Before it's here, it's on the Bloomberg Terminal.
LEARN MORE