Medical Marijuana Gets Its Day in Court
By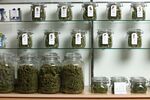 The Michigan Supreme Court agreed last week to weigh a medical marijuana ban put in place by lawmakers in a Grand Rapids suburb called Wyoming. The case comes out of a lawsuit brought by a Wyoming resident, a medical marijuana patient with diabetes, who challenged a 2010 ordinance that makes cultivation of marijuana plants a violation of local zoning laws.  The town won in a district court, then lost on appeal, and now the state's highest court will hear the case.
Like a lot of things involving marijuana legalization, the question of whether local governments can opt out of pot laws is anything but settled. Towns and cities all over the country have passed laws banning the sale of pot, but in most places there aren't enough dispensaries or patients to challenge them, says Allen St. Pierre, executive director of the marijuana advocacy group Norml. Only in Michigan and California have the cases made headway in the legal system. Residents of the California town of Riverside are currently waiting for the state supreme court to decide whether lawmakers' four-year ban on pot clubs is lawful—a ruling that's expected next month. The outcome of these cases will have implications not only for the 200 California towns and the three Michigan cities that have passed blanket bans, but for many other states where pot businesses are springing up.
Medical marijuana bans revolve around the business side of selling the drug. No city or town in one of the 18 states, plus Washington D.C., where medical marijuana is legal has ever prohibited a patient from smoking pot for personal use or from growing plants at home. The question is always about how the patients will get the pot if someone besides the patient is involved. In medical marijuana states, lawmakers have been clear about who can provide plants to patients and how many they can grow. The providers in most states must be "caregivers" chosen by the patient, and there are legal limits on how many patients they can care for at a given time.
But caregivers in some states have easily gotten around these laws by throwing away patient prescriptions right after they fill them and keeping a revolving group of patients. (In Washington state, medical dispensaries have become de facto businesses this way). With an eye toward lawsuit-ridden California, states that include New Mexico and New Jersey have either placed caps on the number of dispensaries they'll allow or discouraged pot entrepreneurs by making the process of opening a dispensary cumbersome. The only states that have laws allowing local governments to ban marijuana shops are California and Colorado. In Massachusetts, where no dispensaries exist but where towns have preemptively banned them, Attorney General Martha Coakley recently penned a legal memo saying localities cannot opt out of the law.
Local lawmakers opposed to medical marijuana have issued bans based on their authority to regulate land use. They've argued that a product that's illegal under the federal government's Controlled Substances Act, which designates cannabis a Schedule I controlled substance like heroin and LSD, should not be allowed near schools. While many state officials, under pressure from above and below, would rather avoid legal battles and simply let localities make decisions on their own, marijuana activists won't let them off that easy. They bring these lawsuits in an effort to force politicians and judges government to assert their state authority—and end the confusion over what's legal and what's not.
Before it's here, it's on the Bloomberg Terminal.
LEARN MORE