Making a Statement With Writer's Block
by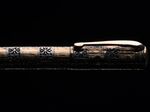 There's at least one good reason fountain pens continue to sell: they're not really something you can borrow. High-end pens costing $300 and up tend to use gold nibs.(The designation "750" on a pen means that the nib is 18 karat gold, and "594" means that the nib is 14 karat gold.) The softer and more flexible the material, the quicker the pen works itself into the pattern of its owner's hand and writing style. So the moment a stranger uses it, the nib's shape is altered, and the pen's writing style fundamentally changes. That's the thinking, at least.
Another reason is the patina of charm that surrounds many analog devices in this digital age. And pens--especially swanky ones--have a way of making a statement even when their owner has writer's block. Click to view a slideshow of some mighty pricey pens .
James Tarmy reports on arts and culture for Bloomberg Muse, the arts and leisure section of Bloomberg News.

Before it's here, it's on the Bloomberg Terminal.
LEARN MORE