Firing Ron Johnson Won't Be a Panacea for J.C. Penney
The former Apple Stores chief is out. Replacing him is the man he succeeded at Penney, Myron Ullman
by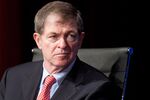 Before celebrating the April 8 ouster of chief Ron Johnson, consider the options for J.C. Penney at this point. In firing the man who created Apple's stores, JCP's board is finally admitting that Johnson's magic isn't transferable. Building an experience around a high-margin tech brand with a cult-like following isn't the same as selling mom jeans. We now know that. Ditching all those beloved coupons in favor of everyday low prices? Dumb idea.
But bringing back Myron "Mike" Ullman III, the man who ran JCP until late 2011, isn't exactly thinking outside the box. He is, after all, the guy Johnson replaced. And Ullman himself had reached out to Johnson a few years earlier to gauge the then-retailing star's interest in the job. The once and future Penney chief also bought into the notion that the same emphasis on shopping experience—rather than price—that Johnson had brought to Apple and Target would help the mid-market retailer gain a younger and more loyal audience. While Johnson's moves to create "stores within a store" with brands such as Michael Graves and Joe Fresh could prove smart in the long run, the former Apple wunderkind certainly seemed to lose sight of the here and now.
The problem isn't just that Johnson did too much too soon. The bigger issue is that J.C. Penney shoppers aren't craving a new shopping experience. They already have access to the retail-fair atmosphere he was trying to create within the retailer's existing mall stores. It's called the Internet. From there, customers can browse all the cool fashions they want. They don't need to get in a car and drive to a big-box retailer on the off chance they'll discover something delightful. The only thing that will compel them to drive to a J.C. Penney is convenience—or a great sale.
Besides, even shoppers who want to experience the thrill of the hunt without the aid of their laptops or tablets don't necessarily need to bag their next purchase at J.C. Penney. Mass merchants like it and Sears Holdings continue to be squeezed between department stores, which have a wider assortment of upscale fashions and brands, and big-box retailers including Target and Wal-Mart Stores, which have lower prices. And Penney still has to compete against newer mass-market retailers like Kohl's, which aren't saddled with all that expensive mall space.
The question now is what Ullman's going to do with the middling chain that Johnson was trying to transform. Stick with the plan to roll out all those cool products while reconnecting with vendors, employees, and the customers who felt shafted over the past year? Um, probably. First up, Ullman stated in JCP's official release, is to "articulate a game plan and establish a foundation for future success."
That's a tall order for a company that's currently in free fall. Even hedge fund manager Bill Ackman admitted on April 5 at a Reuters conference that Johnson's run had been "very close to a disaster." Ackman, don't forget, is the guy who pushed so hard to get Johnson there in the first place.
Whether Ullman proves to be Mr. Right or Mr. Right Now for the troubled retailer, there's little doubt he'll face as tough a challenge as his predecessor in winning over J.C. Penney customers. His greatest asset is that he won't be burdened with inflated expectations.
Before it's here, it's on the Bloomberg Terminal.
LEARN MORE