The Software Behind the Final Four
By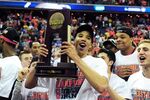 When I reach Marc Klein, it's a couple of days before the Final Four, and he still seems sane. This is an accomplishment given that Klein, an event manager with Populous, needs to make sure all the goings-on in Atlanta take place as expected. He's the guy who tracks whether people show up at the right place at the right time with the right stuff, so that the rest of the country can enjoy a couple of basketball games.
As Klein explains, he has 63 different schedules saved in an online event management system. One schedule covers all the transportation of the buses; another covers the signs and décor; another keeps track of the officials; and so on, and so on. The same system lets security guards know if they should let someone into an arena, and lets the people managing the court know which equipment must be in place for the halftime show. "Part of our role is to compile all of that information in real time," says Klein. "We can produce 63 reports at any moment, and there is one true source of correct information."
A ton of online applications have emerged to help deal with this type of problem, but Populous, a Kansas City (Mo.)-based sports architecture and event specialist that also handles the Super Bowl and the Olympics, has turned to Smartsheet for its massive project management efforts. Smartsheet sells project management software that looks more or less like a supercharged version of Microsoft's Excel.
Headquartered just outside Seattle, Smartsheet has more than 26,000 customers that use its software for projects ranging from managing high school volleyball teams and weddings to the day-to-day work of 4,000 people at Lawrence Berkeley National Laboratory. The customers tap into various modules to set up tasks and assign them to people, and to create sections where people can store documents related to a project.
Planning for something like the Final Four begins about three years in advance, and Klein uses Smartsheet from start to finish. At monthly planning meetings he begins forming groups in the software and arranging documents and other files. "People fly in and have the shared meeting agenda and meeting materials waiting for them," Klein says. "Then we have an issue-tracking system that monitors items that come out of the meetings."
Brent Frei, a former Microsoft executive, co-founded Smartsheet in 2006. He gets that the company is playing in a crowded field. Folks like Dropbox, Box, Asana, Yammer/SharePoint from Microsoft, and Basecamp all solve parts of the project management equation. Still, Frei contends that using a spreadsheet as the basis of task management is the company's edge since it gives people a familiar tool and interface. "Everyone knows Excel," he says.
All told, venture capitalists have bet on the order of about $1 billion on startups fighting to become the new de facto dashboard within corporate walls. "Replacing e-mail has been the pipe dream of companies for 20 years," says Frei. "It just isn't going to happen." With that theory in mind, Smartsheet has built-in tools that let people manage their projects and add collaborators via e-mail. The company is betting big on the familiarity route rather than unbridled disruption.
This strategy seems to be working with Klein. He's moved customers away from using Word and Excel documents to manage their projects and onto Smartsheet with ease. "I pick up 200 users and drop 200 users every year as we switch from one host city to the next in the Final Four," Klein says. "There's a comfort level with the interface. It's a big selling point."