pursuits
Roger Ebert's Social Media Legacy
By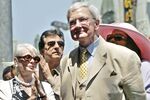 Roger Ebert, who died Thursday, was an old-school newspaperman whose column was syndicated to more than 200 papers for decades, but he was also a social media pioneer. In addition to his contribution to film criticism, his abiding legacy is the way he assimilated computers into his daily life and served as an example for other writers.
Ebert first logged on to the Internet in 1990 through CompuServe; by 1993 he was using a laptop to e-mail dispatches from the Cannes Film Festival back to his editors at the Chicago Sun-Times. Three years later, in 1996, Ebert pushed the newly digital Sun-Times to put 2,000 of his reviews online for free. The archive dated back to 1985 and was easily searchable by title or star rating.
The Internet gave Ebert more ways to connect with his readers, and despite his illness (he was diagnosed with cancer in 2002 and lost the ability to speak in 2006), Ebert actually grew more prolific in his final years. He averaged 200 movie reviews per year (last year he hit a career record of 306), kept a blog, obsessively entered the New Yorker caption contest, and wrote the occasional Op-Ed. But he unexpectedly thrived on Twitter.
There is an allure to following celebrities on Twitter, and through their 140-character quips you sometimes catch a glimpse of who they really are. But the experience of following Ebert on Twitter was more intimate than that; his opinions were strong and frequent. "'Operation Odyssey Dawn?' Is it possible to conduct a military operation without giving it a title like a Tom Clancy novel?" Ebert tweeted in 2011, referring to the U.S.'s code for the military conflict in Libya. Last August he mused, "Somehow it's appropriate that people opposed to gay marriage would rally at a fast-food chicken chain." He couldn't talk, but he could still make us laugh.
"I was forced to enter this virtual world in which my computer does some of my living for me," Ebert explained in his 2011 TED talk, which he delivered through a computer program and with assistance from his family. And he continued to expand his online presence, even as he was dying. On Tuesday he wrote that he was "re-launching the new and improved Rogerebert.com and taking ownership of the site under a separate entity, Ebert Digital."
The Sun-Times erected a paywall in 2011; on Friday, its obituary of Ebert was only available to registered users. It can be read for free on rogerebert.com.
Before it's here, it's on the Bloomberg Terminal.
LEARN MORE