Oil Spills May Complicate Obama's Keystone XL Decision
Paul Tullis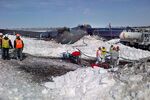 Two spills of oil from the Canadian tar sands region last week brought into stark relief an aspect of the debate over the Keystone XL pipeline: how—and whether—bitumen from Alberta will make it to the Cushing (Okla.) oil depot and Gulf Coast refineries in the event that President Obama rejects TransCanada's application to build the 1,250-mile extension. A derailed train in Minnesota on March 27 spilled at least 20,000 gallons (476 barrels) of oil, which an activist group later reported was tar sands oil. Then, two days later, a pipeline rupture in Arkansas spilled about 84,000 gallons (2,600 barrels) of heavy crude into a suburban subdivision, a spill well-covered by cable news outlets.
Last month the U.S. Department of State, which controls the permitting process for the pipeline (since it would cross a border), issued the latest of many Draft Supplemental Environmental Impact Statements it has released on the project. The president ordered the new review in November 2011 after numerous questions over the department's impartiality were raised when apparent conflicts of interest at State, and a company it had contracted with, came to light.
Opponents of the Keystone XL, such as writer-activist Bill McKibben and NASA climate scientist James Hansen, have argued that the pipeline will enable expanded oil sands production, and hence increase greenhouse-gas emissions, because today the bitumen has limited means of getting to refineries and markets. Indeed, IHS CERA oil sands industry analyst Jackie Forrest told me in 2011, "The oil sands market will not grow if it can't access new markets."
The State Department's latest Draft SEIS cast the global warming question aside. Repeating a talking point Keystone's supporters have made, it essentially stated that the Keystone XL would not cause a significant spike in emissions because, pipeline or no pipeline, the oil will find its way to market.
That's not what industry analysts and other experts have said, however. Canada doesn't use anything close to the amount of oil buried under its biologically rich boreal forests—the oil from Alberta needs to go east, west, or south in order to be exported.
West is pretty much out of the question, because First Nations peoples (Canada's preferred term for Native Americans) enjoy broad sovereignty and territorial rights over much of the area any westbound pipeline (or railroad) would go through. And, having already seen (PDF) some of the damage oil sands production can have on health, these folks are pretty much uniformly opposed to moving bitumen through their homelands.
East is unlikely for two reasons: Refineries don't exist on the East Coast to handle bitumen, which is a thicker, more sulfurous substance than refineries there get from Texas and the North Sea. Refineries can be upgraded or built anew, but that would be expensive, further thinning oil sands' potentially razor's-edge margins. And any new pipeline capacity—the plan is to ready existing natural gas pipelines for oil—would likely face local opposition as a result of ongoing troubles Enbridge has faced cleaning up a 2011 bitumen spill in Michigan.
That leaves south, which means by pipeline, road, or rail. TransCanada Chief Executive Officer Russ Girling has praised the lower emissions associated with transporting oil by pipeline compared with road or rail. Still, trucks crash and, as we saw last week in Minnesota, trains aren't immune to accidents either.
But the real problem with trains is cost, and here's where State's analysis might be off base. The department increased its estimate of the cost of rail transport from Alberta to Texas to $15.50 per barrel, up from the $9 to $12.50 it projected in its August 2011 SEIS. But all it needed to do was read the local newspapers to discover that at least one company is paying $31 per barrel to move diluted bitumen to the Gulf Coast.
In March, IHS's Forrest said increased reliance on rail would probably bring the price of such transport down. She also pointed out that although bitumen is too thick to move through a pipeline unless it's diluted (usually with some proprietary mixture that includes benzene, a carcinogen which is known to seep farther through soil than bitumen when it spills), it is possible to move tar sands oil by rail in an undiluted form. That would increase volume by as much as 30 percent, reducing costs by nearly the same amount.
Even with the 30 percent reduction from $31, it would take one heck of an economy of scale (almost another 30 percent in savings) to get the price of rail transport down to where the State Department says it will be if the Keystone XL is rejected. All that said, Obama hinted at a fundraiser on Wednesday night that he might approve the pipeline, surely not pleasing his hosts, San Francisco billionaire Thomas Steyer and his wife, Kat Taylor. Steyer has been vocal in opposition to the Keystone XL and even attended a protest against it in front of the White House in March.
Before it's here, it's on the Bloomberg Terminal.
LEARN MORE