Long Work Hours and Trouble Sleeping Are Hurting China's Workers
By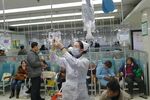 What with Beijing's foul air, thousands of rotting pig carcasses recently afloat near Shanghai, and now a fatal bird virus afflicting China, it's hardly surprising that people aren't feeling so healthy.
That's what the results of a new survey confirm, with 66.8 percent of young and middle-aged Chinese saying their health is poor. Even more—78.6 percent—reported that they have young friends, colleagues, or peers that have died or experienced incurable illnesses in the last year. On average, the respondents visited a doctor five times a year, and only 21.1 percent said they were satisfied with their current physical and mental health.
Reported in the April 2 issue of Insight China, a monthly published by Qiushi, or Seeking Truth, the magazine of the Chinese Communist Party, the survey was done together with Tsinghua University's Media Research Lab. Qiushi and the media lab canvassed 1,012 people between the ages of 15 and 60.
But apart from the obvious environmental and health problems afflicting Chinese, the survey suggested other reasons for the poor perception of health: "The survey cited stress, long working hours, and difficulty sleeping as the three biggest sources of health concerns," Xinhua News Agency reported. All told, 82.8 percent said they feel they are either close to or already overworked.
By contrast, a white paper on health, released by China's State Council on Dec. 26, 2012, paints a better picture. Touting an average life expectancy of 74.8 years (72.4 for men and 77.4 for women), falling maternal and infant mortality, as well as an expansion of medical service in both urban and rural China, the report states: "[T]he people's health has been improved. Judging from important indicators that give expression to national health, the health of the Chinese people is now among the top in developing countries."
Still, there is room for improvement, the report concedes: "With years of effort, China has made remarkable achievements in the development of its healthcare undertakings, which, however, still fall far short of the public's demands for healthcare." The latest survey certainly shows that.
Before it's here, it's on the Bloomberg Terminal.
LEARN MORE