Job-Hunting MBAs in D.C. Brush Off Uncle Sam
Francesca Di Meglio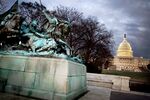 Far fewer MBA graduates went to work for Uncle Sam last year from two District of Columbia B-schools known as talent pipelines for the federal government. That trend might continue if the MBA job market remains strong.
Only 5 percent of graduates at George Washington University School of Business took government jobs in 2012, compared with 19 percent in 2011. At American University's Kogod School of Business, 6 percent of graduates accepted government positions in 2012, a drop from 11 percent in 2011.
Both schools have different explanations for what happened. GW attributes the dramatic decrease to a change in government employment guidelines, which took effect at the end of 2011, says Gil Yancey, executive director of career services at GW's School of Business.
Until then, students had two ways to pursue government jobs—through the USAJOBS board, which is known to be a more challenging route for grads, and another board that made it easier for recent grads, but which was suspended through August 2012, after most MBAs had found work, says Yancey. The government stopped that jobs board because it was perceived to be unfair to veterans; in August 2012, it introduced Pathways for Students and Recent Graduates to Federal Careers, which is considered fairer, Yancey says.
During the interim, students interested in government jobs, he explains, were forced to either go through USAJOBS or look elsewhere. Many opted for the latter, he adds. But the obstacle of having to go through USAJOBS is not the only reason GW students did not enter government last year, says Yancey.
"The reality is that the growth in opportunities is in the private sector," he says.
According to the Graduate Management Admission Council, which publishes the GMAT exam, the employment rate for the graduating class of 2012 was 92 percent, the highest rate for any graduating class since 2003, while the median annual salary hit $100,000, up from $95,000 a year earlier. But Wall Street jobs were an exception. With big banks hemorrhaging jobs last year, many schools—including Chicago's Booth School of Business, Virginia's Darden School of Business, and Duke's Fuqua School of Business—reported declines in investment banking recruiting activity. By most accounts the job market for MBAs in the class of 2013 remains strong.
At nearby American University, the administration has a different explanation for the decline in MBA grads entering government service. Arlene Hill, director of the Kogod Center for Career Development, says that more students went into the potentially far more lucrative business of government consulting. Thirty-three percent of students entered consulting in 2012, down from 43 percent the year before, but more are working with government clients this year, she says.
Although Yancey says the money and opportunities in the private sector could woo students moving forward, he agrees with Hill that there will always be MBAs in D.C. who are interested in joining government.
"We tend to have students with nontraditional interests and backgrounds," says Hill, citing as examples those from public service or the Peace Corps. "They want to go into government to make a difference."
Join the discussion on the Bloomberg Businessweek Business School Forum, visit us on Facebook, and follow @BWbschools on Twitter.
Before it's here, it's on the Bloomberg Terminal.
LEARN MORE