HTC Needs a Boost, but Facebook May Not Be It
by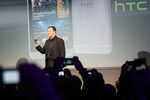 As Mark Zuckerberg unveiled the new Facebook Home at the company's headquarters in Menlo Park, Calif., yesterday, a Taiwanese tech boss was on hand to cheerlead. Peter Chou, the president and chief executive officer of smartphone maker HTC, told attendees how great Zuckerberg's new phone will be. "It's clear Facebook has created a truly unique service," he said.
While he sang Facebook's praises, Chou must have had mixed feelings. HTC got its start as an anonymous outsourcer making devices for others, but unlike Taiwanese electronics companies like Foxconn that have succeeded by churning out gadgets for big brands like Apple, HTC has spent the last five years building a consumer brand of its own. And for a while, the strategy worked: By 2010, HTC was an Android smartphone leader and the third-most-valuable Taiwanese company, with a market cap of $18 billion. "We just want to come up with our own innovations, our own flavor," Chou said in an interview in 2010. Still, there he was at the Facebook Home debut, burnishing Zuckerberg's brand instead.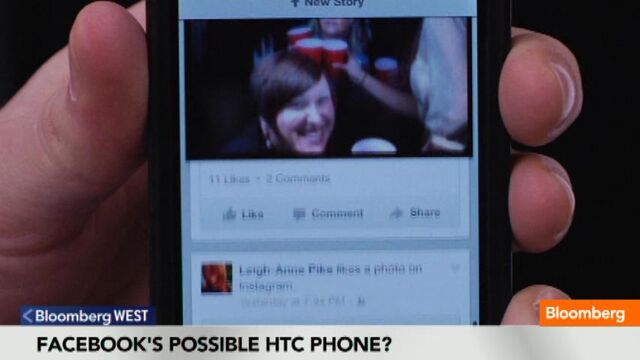 The Facebook alliance is a step backward for HTC's campaign to stand on its own, but the Taiwanese company needs the help. As Samsung has soared to become the world's No. 1 smartphone maker, HTC has lost market share, accounting for just 9.3 percent of U.S. smartphone subscribers in February, according to ComScore data. (By comparison, Apple has 38.9 percent of the market; Samsung, 21.3 percent.) "The brand value that Samsung and Apple have is just luring customers away at the high end," says Jitendra Waral, an analyst in Hong Kong with Bloomberg Industries. For all of Chou's emphasis on HTC's identity, the company remains a long way from being mentioned in the same breath as the Big Two.
Indeed, HTC is moving in the wrong direction. For phones that cost $500 or more, Apple had 48 percent of the market last year, with 130 million phones sold, according to data from market researcher IDC. Samsung had 32 percent, selling 87 million phones. That doesn't leave much room for HTC, which sold just 11 million, or 4 percent of the total. While Apple's $500-plus sales grew 42 percent from a year earlier and Samsung's soared 146 percent, HTC's fell by 32 percent.
It's unclear how much HTC will gain by partnering with Facebook. If consumers take to Facebook Home, the Taiwanese company might get a boost. But if it does prove popular, Zuckerberg is unlikely to stick with just one supplier, says Waral. Facebook "cannot stick to one guy for long and make this happen," he says. "You won't get the volume."
This isn't the first time Chou has teamed with U.S. business celebrities. HTC in 2011 bought 51 percent of Beats Electronics, the high-end headphone maker fronted by Dr. Dre and Interscope Geffen A&M Chairman Jimmy Iovine. At the time, Chou said the acquisition would help HTC stand out from the crowd of Android phone makers, making HTC smartphone music-listening "unique and differentiated and awesome." Within a year, though, the partnership soured: HTC sold half of its Beats equity back to the U.S. company's founders last July.
So far, investors seem to be cautious about HTC's newest California deal, giving HTC's Taiwan-listed shares a modest 1.4 percent bump after Chou's appearance at the Facebook Home debut. Still, they are down 18 percent since the start of the year, and off about 80 percent since early 2011.
Before it's here, it's on the Bloomberg Terminal.
LEARN MORE