Batista's OGX Drops to Record Low After S&P Downgrade
Peter Millard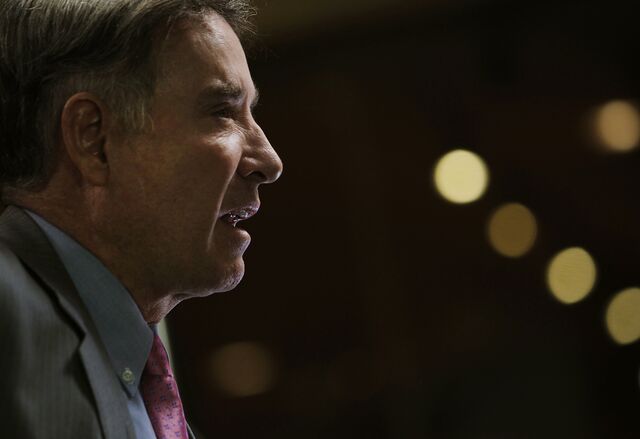 Billionaire Eike Batista's OGX Petroleo & Gas Participacoes SA extended its decline to a record low after Standard & Poor's cut the oil producer's debt rating on disappointing output and a potential cash shortfall in 2014. Yields on its bonds surged.
OGX shares slumped 11 percent to 1.98 reais at the close in Sao Paulo, the lowest since it started trading in June 2008. The stock was the most traded by volume on Brazil's Bovespa index at 1.8 times its three-month average. Yields on OGX's bonds due in 2018 rose 11 basis points to 14 percent.
OGX may need to raise $1 billion from Batista through a put option or sell assets because lower-than-expected production doesn't cover costs, S&P said in a statement yesterday. The agency lowered its rating on OGX's debt to B-, six levels below investment grade, from B and said it may cut it again this year if the Rio de Janeiro-based company doesn't make progress toward improving liquidity.
"The company would need additional sources of cash," S&P analysts Renata Lotfi and Fabiola Ortiz said in the report. "We are not expecting the 2014 production to generate sufficient operating cash flows to continue financing capital expenditures and interest payments."
OGX is pumping 11,300 barrels a day at its first project where it hired a production vessel capable of processing almost six times as much oil and costing $263,000 a day. The explorer will probably not connect additional production wells at the Tubarao Azul field off Brazil's southeastern coast after poor results at its most recent well, S&P said.
"We could lower the ratings if the company does not show by the end of 2013 material progress in obtaining additional liquidity sources," S&P said.
Cash Holdings
OGX had $1.7 billion in cash at the end of 2013 and plans to spend $1.3 billion this year, the company said in a March 26 earnings release. The $1 billion put option is conditional to capital needs and the absence of more favorable alternatives, OGX said. OGX's press office declined to comment on the debt rating cut in an e-mailed response to questions.
It will take longer than planned for OGX to connect future production vessels off the coast of Rio state, reducing its ability to meet debt payments, S&P said.
"Production delays and higher costs should keep credit metrics weak for the next two years," the S&P analysts said. "Converting contingent resources into reserves and ramping up production continues to be its main risks."
Production Outlook
S&P expects OGX to lift production to 17.3 million barrels of oil and natural gas in 2014, or about 47,000 barrels a day, up from 4.7 million this year. OGX originally planned to pump 730,000 barrels a day in 2015 mainly from discoveries in Campos. The company removed production estimates from its presentations last year after the results from its first two wells.
OGX plans to start output at two new projects in Campos before the end of 2013 after OSX Brasil SA, the shipbuilding and oil services company Batista controls, delivers additional equipment, according to information on its website. OGX also produces natural gas on land in northeastern Brazil.
The drop in OGX shares today also extended losses to other companies of Batista, whose wealth has shrunk almost $27 billion since a $34.5 billion peak in March 2012. While OSX lost 5.9 percent to a record low 4 reais, MMX Mineracao & Metalicos SA, the billionaire's mining unit, declined 7.3 percent to the lowest since Oct. 28, 2008.
Before it's here, it's on the Bloomberg Terminal.
LEARN MORE