How to Gift a Book Without the Homework
by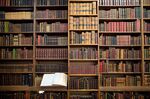 The problem with gifting people books is that the recipient knows that the giver knows that the recipient probably won't ever read it. It ends up feeling like an obligation--accumulating as much guilt as dust--that masquerades as a present.
Unless the book you give is a rare book. Then you haven't presented someone with homework; you've given them a collector's item. There seems to be an unwritten waiver for book collectors: The more precious the book, the more irresponsible it is to read it. When, for example, was the last time you saw someone dog-earing a Gutenberg?
Rare books--first editions, century old manuscripts, anything long out of print--are meant to be admired, not touched. But you're not likely to buy something so valuable that someone couldn't, you know, actually read it.
The key is figuring out where to buy one. In London, there's Bertram Rota in Covent Garden, arguably the best overall rare (English language) bookstore in the world. And in New York, the best place to go is the 3rd floor of the Strand Bookstore.
A recent trip to the Strand found a first edition of Truman Capote's "The Grass Harp" selling for $60, and a first edition of Janet Flanner's "Paris Journal" at $90. For the more generous gift giver, there was the first U.S. edition of Bernd and Hilla Becher's "Anonyme Skulpturen" for $2,000.
All are excellent reads, if you're into that sort of thing.

James Tarmy reports on arts and culture for Bloomberg Muse, the arts and leisure section of Bloomberg News.

Before it's here, it's on the Bloomberg Terminal.
LEARN MORE