France's Budget Chief Admits He Has an Offshore Account
By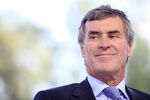 It's the last thing French President François Hollande needs. Just as he's trying to impose budgetary discipline on his countrymen, his chief tax enforcer has admitted to hiding €600,000 ($770,000) in an offshore bank account.
Budget Minister Jérôme Cahuzac, who resigned as budget minister two weeks ago, acknowledged this week that he lied to Hollande and others who questioned him after allegations about his secret overseas accounts surfaced several months ago. "The facts are intolerable," Hollande said in an April 3 television address from the Elysée Palace. "From now on, those in office will have to set the highest example."
The revelations about Cahuzac will complicate Hollande's effort to ask France to accept cuts in social spending and reduced job protections, in a push to kick-start the economy and narrow a budget deficit that reached 4.8 percent of gross domestic product last year. "He needs to ask the French for blood, sweat, and tears," says Laurent Dubois, a professor at the Institute of Political Studies in Paris. "He needs a firm hand, a clean hand. Yet one of his team members had his hand in the till."
Cahuzac wasn't just any old team member. A wealthy plastic surgeon who had been considered one of the Socialist Party's brightest stars, he was supposed to be spearheading the government's fight against tax evasion. "Cahuzac was the face of fiscal rigor in France," says Nicholas Spiro, managing director of Spiro Sovereign Strategy in London. "The scandal is deeply damaging to Hollande personally and the fortunes of the Socialist Party."
The center-right opposition has quickly piled on, accusing Hollande of naïeveté in believing Cahuzac's denials. But the right-wing National Front could benefit even more from the scandal by fueling public suspicion that mainstream political parties are corrupt. The National Front won nearly half the votes in a special election last month in the Oise region near Paris. The region is the political base of Eric Woerth, who was budget minister under former President Nicolas Sarkozy. Woerth and Sarkozy both have been named as suspects in a separate corruption scandal involving allegedly illicit political financing.
Hollande's allies are in despair. "We're stunned," an unnamed Socialist parliamentary deputy told the leftist newspaper Libération, in an article headlined "The Left is Crying."
Before it's here, it's on the Bloomberg Terminal.
LEARN MORE