Ex-SAC Manager Charged in Trading Scheme Switches Lawyers
By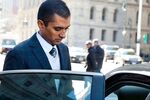 In a week already overflowing with intriguing developments in the insider-trading investigation centered on SAC Capital Advisors, here's another: Mathew Martoma is replacing his defense lawyer. The move immediately raises questions about whether Martoma plans to change his strategy, which—so far, at least—could be characterized as: fight without giving an inch.
Martoma's legal strategy has been a major subject of debate and consternation among those involved in the case. Martoma is the former SAC portfolio manager who was charged last November with trading on inside information on two drug stocks, Elan and Wyeth, in what the government described as the largest insider-trading case ever.
The Securities and Exchange Commission on March 15 announced a $602 million settlement with SAC over its civil liabilities pertaining to the Martoma charges, but both the civil and criminal cases against Martoma himself are proceeding. With $276 million in profits and avoided losses alleged by the government, Martoma faces a potentially brutal sentence if found guilty in a criminal trial. For that reason, his unwillingness to enter talks with prosecutors about cooperating in the hopes of obtaining a more lenient sentence has baffled investigators. Martoma has pleaded not guilty.
His former attorney, Charles Stillman, of Stillman & Friedman, is known as a spirited fighter. Martoma is replacing him with Richard Strassberg of Goodwin Procter, a much larger firm that has secured some victories in defending insider-trading cases. One of those involved a bond salesman from Deutsche Bank and a hedge fund portfolio manager, who were accused by the SEC of trading in credit-default swaps based on inside information. The following excerpt from Strassberg's biography on his firm's website also might provide some context: "Prior to joining the firm, Mr. Strassberg was the Chief of the Major Crimes Unit in the United States Attorney's Office for the Southern District of New York, responsible for supervising approximately 25 Assistant United States Attorneys in the prosecution of white collar criminal cases." Strassberg could not be reached for comment.
"The young man made a decision. I wish him well," Stillman said on Thursday, explaining how quickly his life changed when he learned he's no longer bracing for a possible summer trial. "We have a house in the Berkshires, and we're talking about redoing our deck," he said. "So the day this happened, I called my wife and said, 'Call the contractor. It's time to finish the deck!'"
Before it's here, it's on the Bloomberg Terminal.
LEARN MORE