World's Best Female Chef Heads Italian Family Restaurant
Richard Vines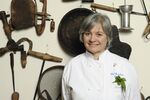 Nadia Santini, the matriarch at Dal Pescatore in Mantua, Italy, was today named as Best Female Chef in the World's 50 Best Restaurants awards.
Santini had never cooked professionally when she entered the kitchen of her husband Antonio's family in 1974. About 22 years later, she was the first woman in Italy to be awarded three Michelin stars. Antonio now manages the front of house.
"Nadia Santini's cheffing expertise has lifted the restaurant to the highest of heights," the World's 50 Best Restaurants said today in an e-mailed release. The winning establishments will be announced in London on April 29.
When Santini joined the restaurant, it was run by her husband's grandmother, Teresa, and his parents, Giovanni and Bruna. Santini's sons Alberto and Giovanni work there now.
Last year's winner was Elena Arzak, the fourth generation of her family to head Arzak restaurant since it opened in 1897. Arzak is located in San Sebastian, Spain. the Best Female Chef is sponsored by Veuve Clicquot.
(Richard Vines is the chief food critic for Muse, the arts and leisure section of Bloomberg News. He is U.K. and Ireland chairman of the World's 50 Best Restaurants awards. Opinions expressed are his own.)
Muse highlights include Hephzibah Anderson on books, Jeremy Gerard on theater and Stephanie Green's Scene Last Night.
Before it's here, it's on the Bloomberg Terminal.
LEARN MORE