The Death of the Political Sex Scandal
By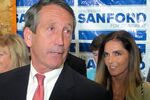 This morning, former South Carolina Governor Mark Sanford appeared on MSNBC's Morning Joe to celebrate his victory in last night's Republican primary runoff. Sanford will run against the Democratic nominee, Elizabeth Colbert Busch, in the special election for the state's open House seat in early May. But the notable thing about his victory is that he overcame one of the most notorious sex scandals in recent memory—Sanford, you'll recall, disappeared for days and was said by his staff to be "hiking the Appalachian Trail" when in fact he was shacking up with his Argentine mistress.
Sanford's comeback is only the latest example that behavior that once would have swiftly and permanently destroyed a career has become no more than a temporary setback, if that. The political sex scandal is dead.
Consider the recent evidence. Last year, Republican Representative Scott DesJarlais of Tennessee—a physician opposed to abortion rights—was revealed to have carried on affairs with his patients and urged one of them to have an abortion. DesJarlais refused to resign from Congress and was reelected last fall. Republican Senator David Vitter of Louisiana survived a 2007 prostitution scandal when his name appeared in a client book of the infamous "DC Madam." Vitter apologized for his "very serious sin" but didn't resign and won reelection.
Sanford, too, refused to step down (though he did give up his chair of the Republican Governors Association) and survived an impeachment attempt to serve out his term, leaving office in 2011. A number of commentators argue that the sex scandal damaged him and that he may lose to Colbert-Busch. I wouldn't bet on it.
As best I can tell, only two things are guaranteed to remove a politician from office in the wake of a sex scandal. One is consorting (or attempting to consort) with someone who is underage. In 2006, Representative Mark Foley, a Florida Republican, was quickly forced out when it came to light that he had tried to solicit teenage male congressional pages.
The other thing that can dislodge a congressman from his seat is an angry spouse. After Democratic Representative Anthony Weiner of New York was caught tweeting pictures of his genitals to female followers, it was his pregnant wife who prevailed on him to resign. And although former Republican Representative Chip Pickering of Mississippi retired before his extramarital affair came to light in 2009, his wife's filing for divorce in 2008 when she learned of the affair seems to have prompted his exit.
But even these "guarantees" seem shakier and shakier. Sanford divorced his wife and won (he's now engaged to his mistress, who appeared at his victory rally last night). And Weiner clearly would like to return to politics. Last month, Politico's Maggie Haberman revealed that Weiner spent $50,000 on polling, possibly to explore a run for New York City comptroller or mayor.
Surviving a sex scandal is hardly new. Just ask Bill Clinton, the patron saint of surviving sex scandals. But it used to be an exception, and now it looks more like a rule.
Before it's here, it's on the Bloomberg Terminal.
LEARN MORE