North Korea Rattles the Saber, and Markets Shrug
by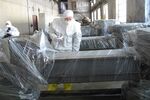 The tensions between North and South Korea heightened again on April 3, with the regime of Kim Jong Un preventing South Korean workers from going to an industrial zone in the North jointly run by both sides. The move—the first time since 2009 that North Korea stopped workers from going to the Gaesong complex—comes after the North said on March 30 it might close the park. The closing is part of a bigger attempt by new North Korean leader Kim Jong Un to disrupt life in the South. The North Koreans have said the annual U.S.-South Korean military drills (going on till the end of the month) have brought the peninsula to the brink of war, and on April 2 the North said it would rev up facilities at a nuclear site shut since 2007.
Showing that the North Koreans don't have a monopoly on bellicose talk, South Korean Defense Minister Kim Kwan Jin told Bloomberg News today that the South is ready to "annihilate" 70 percent of North Korean forces within five days of an attack.
With all this talk of war, surely the South Korean markets are very jittery? Not yet. Yes, South Korea's currency did take a dip today, following the news about Gaesonge in the North. The won fell to a six-month low on the news.
South Korean stocks fell, too, and the benchmark index, the Kospi, is down 5.4 percent for the year. That's the worst performer in Asia in 2013.
Still, foreign investors have plenty of appetite for South Korean bonds: Overseas investors increased their holdings of Republic of Korea debt by 1.5 trillion won ($1.3 billion) in March, the Financial Supervisory Service said today. And the South Korean economy is likely to pick up speed this year, according to a report by HSBC economist Ronald Man published today. The South's economy is getting help from both fiscal and monetary policy: The government is likely to announce this month a supplementary budget that increases spending 3 percent, while the central bank has already cut rates twice since July by a combined 50 basis points. HSBC's Man sees GDP growth of 3.8 percent in 2013, compared with just 2 percent last year.
South Koreans certainly aren't heading for the hills: The Bank of Korea's survey of consumer confidence rose from 102 in February to 104 in March. That survey took place before the latest round of threats from Pyongyang. Closing Gaesong to South Korean workers probably won't bother many people in the South, either, according to Brian Myers, professor of international studies at Dongseo University in Busan, South Korea. The joint venture between the two Koreas has never lived up to expectations.
"Since the industrial park opened in 2004, it's been nothing but a headache for South Korean administrations," Myers said in an interview on Bloomberg TV. "Instead of bringing the two Koreas closer together, which was the original idea, it's always just used as a card that Pyongyang plays to increase tension."
The North Koreans have said and done many provocative things in the past few years, so the latest antics haven't done much to spook people. "Previous provocations by North Korea have had an ephemeral or indeterminate effect on South Korea's equity and foreign exchange markets," Moody's analysts Thomas J. Byrne and Steffen Dyck wrote in a report published Tuesday.
Moreover, the North's tantrums come at a time when investors are focusing on the economic policies of South Korea's new government—and liking what they see. "During this ongoing episode of heightened tensions, optimism over the new Park Geun-Hye administration's economic policies evidently surpasses fears over Pyongyang's saber rattling," Byrne and Dyck argued. Years of crises dating back to the North's first nuclear weapons test in 2006 haven't hurt borrowing costs for the South Korean government. Although 10-year yields for Korean Treasury Bonds widened by 4 basis points from March 28 to April 1, "at 2.8% they yield remains relatively low," the Moody's analysts wrote.
As nutty at the North Koreans seem, there is something of a rational basis to their behavior. "This is a state that plays the game of international brinkmanship especially well," John Swenson-Wright, senior lecturer at Cambridge University and senior consulting fellow at Chatham House's Asia program, told Bloomberg TV. What the regime is doing now "is part of a carefully calibrated approach and attempt to shore up the regime at home, an attempt to get the international community to sit up and take notice." According to Swenson-Wright, "what the North Koreans want is for Obama to start talking to them, and I suspect that this new initiative will begin to put pressure on some in Washington to contemplate doing just that."
Before it's here, it's on the Bloomberg Terminal.
LEARN MORE