Can 'Crazy Cheesy Crust' Top Pizza Hut's Stuffed Crust?
By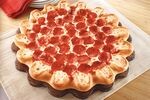 For those who think of pizza as little more than a cheese-delivery system, search no further: Today, April 3, Pizza Hut launches the new "Crazy Cheesy Crust" pizza. Rather like the "crown crust" pizza the chain offers in the Middle East—where an open pocket in the crust is filled with a cheeseburger patty—the American version will stuff the little crust pockets with cheese. For an additional $2, you can add even more cheese to the $12.99 pie.
Pizza Hut's Executive Chef Wiley Bates III, a former chef at Starwood Hotels and Resorts, says the chain will evaluate how this pizza fares before it makes further fillings available for the crust. "What is [Crazy Cheesy Crust] 2.0 for us? That is to be determined," he says. One possibility he's considered: bacon.
Spokesman Doug Terfehr says this is "one of the biggest" launches for the company this year and calls it "a key product for us, without question." While this is a limited-time offer, he says Pizza Hut's original stuffed crust pizza was also intended as a limited-time offer but became so successful when it launched in 1995—the item boosted sales by $300 million by the end of the year—that it became a permanent menu item.
So how cheesy is this new pizza? Does it truly warrant being called "crazy?" In truth, the amount of cheese is comparable to that in Pizza Hut's stuffed crust pizza, says Bates. In this case, the cheese isn't wrapped into the crust, so the cheese-to-crust ratio is a little higher. And the pockets are filled with a different blend of cheeses—provolone, asiago, mozzarella, fontina, and mild white cheddar—than the stuffed-crust pizza contains.
In the test phase, the chain experimented with bigger pockets—about 2.5 inches in diameter, or about the size of a tennis ball—but found that there is, in fact, a limit to how much cheese people want to eat, Bates says. Cheese is "primarily" the most expensive part of the pizza, he adds, and it was important to keep costs under control.
Pizza Hut employees nationwide started training about a week ago to learn how to sculpt the crust. Each pie is made to order, and cooks on site must pull and fold the edge of the crust into loops. Let's hope their artistic efforts look appetizing.
Before it's here, it's on the Bloomberg Terminal.
LEARN MORE