When It Comes to Food Labels, We're More Gullible Than We Think
by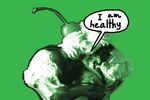 Many of us take pride in how carefully we parse food labels. We study the ingredients, the nutritional values, and the calorie counts with Talmudic intensity. But according to a recent study, consumers can be duped by the simplest marketing trick of all: the color of labels. When information is presented on a green background (as opposed to red or white), people think it's healthier. As Marion Nestle, a professor of nutrition and food studies at New York University, wrote on her blog: Read it and weep.
In the study, Jonathon Schuldt, an assistant professor of communication at Cornell, asked 93 college students to imagine they were waiting, hungrily, in the checkout line at a grocery store. In the first part of the study, he asked them to consider images of a generic candy bar with a green or red label on the front, and then he showed them bars with green or white labels. All the labels stated that the candy bar had 260 calories. No matter: The bar with the green label was perceived as healthier. What's most galling is that the results also suggest that those who cared more about healthy eating were more likely to be fooled by green labels. Schuldt is planning to do the same kind of research with a larger, more representative group than just college students.
Schuldt notes that calorie labeling on the front of packages is becoming more common (and remains voluntary despite government efforts to develop a uniform system.) Mars, maker of Snickers and M&Ms, has been putting the calorie count—in green—on the front of some of its candies since 2009. In an article published in the journal Health Communication, Schuldt writes that the company reportedly chose the color and design after market research revealed that green is "the clear favorite among consumers." The labeling effort among food companies "is seemingly well intentioned in that they are providing consumers with easy access to the calorie count," says Schuldt. "But the data suggest the companies are casting it in a more healthful light." And consumers see what they want to see.
Before it's here, it's on the Bloomberg Terminal.
LEARN MORE