The New Pro Women's Soccer League Might Actually Have a Chance
Allison McCann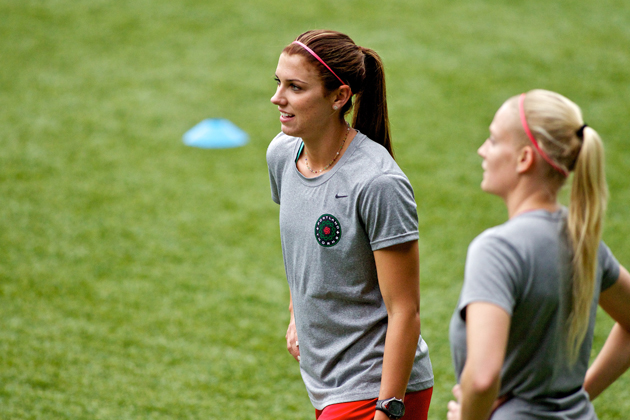 On April 13, a game between two franchises in the newly formed National Women's Soccer League—the Portland Thorns and FC Kansas City—will kick off at the Shawnee Mission District Stadium in Overland Park, Kansas. With a field ringed by a rubber track and bleachers that accommodate a modest capacity of 5,500, the venue is a far cry from London's Wembley Stadium, where a record-breaking 80,000 fans crammed last summer to watch the U.S. women's soccer team win Olympic gold. Still, a generic high school football stadium is a promising sign for this infant league.
The occasion marks the third attempt at building a women's professional soccer league in the U.S. since 1999. The first league, the Women's United Soccer Association (WUSA), was introduced in 2000 after the Women's World Cup at which Brandi Chastain famously fell to her knees and flashed her black sports bra. The sport was riding its first big wave of popularity. Comprising eight teams, WUSA was forced to call it quits three years later, amid dwindling TV ratings and with only two major investors still aboard—Hyundai and Johnson & Johnson—just five days before the 2003 Women's World Cup was hosted by the U.S.
Six years later, the WPS made a go of it with four teams from the failed WUSA, plus three new franchises. One of the latter—the Los Angeles Sol—boldly played its home games at the 27,000-seat Home Depot Center in Carson, Calif., also home of the MLS's LA Galaxy. A year later the Sol folded; over the course of the following two seasons two more teams would fall out and two would be added, leaving six East Coast-only teams for the final WPS season in 2011 (when I was a reserve player for the Boston Breakers in the league's final months). The upsurge in ticket sales following an exciting 2011 Women's World Cup wasn't enough to save the league from financial struggles and legal battles with the owner of Florida's MagicJack franchise, an eccentric millionaire who purchased the team as a present for his 13-year-old daughter and who would continue to neglect basic league obligations (such as providing ambulance or EMS staff at games).
Now the NWSL, which will number eight teams, is showing signs that its officials have learned from the missteps of past leagues. "We asked ourselves: Is there another model we can look out, is there something we can do to have a league and have it be sustainable?" says Cheryl Bailey, the NWSL's newly appointed executive director. Instead of trying to fill MLS stadiums and paying players half a million dollars, the league has opted to build something slowly over time. One major change has allowed any of this to happen: U.S. Soccer, the sport's governing body in the U.S., agreed to finance the U.S. national team players, the best and most expensive players in the league.
Prior to the NWSL draft, three American, two Canadian, and two Mexican national team players were allocated to each team and will be paid by their respective soccer federations, leaving a $200,000 salary cap to be divided among the remaining 13 players on a 20-roster squad. Split evenly, this means about $15,000 per player, but already some players say teams are paying them as little as $6,000 for a five-month season—less than minimum wage, if this were considered a full-time job.
For most teams, like FC Kansas, venues will cost around $1,500 per game. But the Portland Thorns, one of two West Coast franchises, are the first women's professional team to fall under the ownership of an MLS team, the Portland Timbers, and will have free access to their facilities, including a newly renovated 20,000-seat stadium designed specifically for soccer. That's a business model—not unlike many NBA-WNBA teams—that hasn't previously been seen in U.S. soccer.
"It's great that we have an MLS team with NWSL team," says Bailey, noting that they'll have to see how the relationship fares. "Is that something that can be successful? Is that a partnership that worked out well? It wasn't the the intent [of the partnership], but it certainly does offer a potential option going forward."
The immediate future of women's professional soccer looks promising for the first time, which means professional female athletes will continue to make $6,000, live with host families, do their own laundry, and play in high-school football stadiums in order for the league to survive. But a packed house at Shawnee District Stadium in Overland, Kansas, beats an empty coliseum in LA.
Before it's here, it's on the Bloomberg Terminal.
LEARN MORE