Small Business Wants Immigration Reform for More Than Cheap Labor
by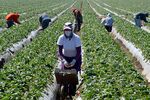 Business leaders often portray U.S. immigration reform as a necessary means to increasing the supply of workers, whether as high-skilled engineers for the technology sector or, say, minimum-wage housekeepers for the hotel industry. A pair of recent polls suggest that small business owners also see immigrants as important customers, job creators, and taxpayers.
In a survey released today by the Main Street Alliance and the American Sustainable Business Council, 82 percent of Democrat small business owners and 62 percent of Republicans supported a road map to citizenship for immigrants already living in the U.S. as well as for future immigrants. Seventy-one percent of the 515 respondents, meanwhile, said that immigration policies should encourage economic integration, and that such policies would strengthen the customer base for small businesses.
"It's not just about labor supply," says Sam Blair, network director at the Main Street Alliance. "Small business owners see immigrants as business owners and job creators in their own right, and that immigration reform is important to building a stronger customer base in their local economies."
Those findings follow a poll published last week by the Small Business Majority—before Congress reached a deal on Friday night—which found 84 percent of 500 small business owners supported a Senate proposal on immigration reform, and nearly 75 percent favored adding immigrants to the tax base.
(It's worth noting that the Main Street Alliance, ASBC, and Small Business Majority are left-leaning groups—the Nation Editor Katrina vanden Heuvel cited the trio recently as the beginning of a movement to challenge big corporate interests in U.S. politics.)
During a conference call today, representatives from the Main Street Alliance and ASBC said that a pathway to citizenship would give immigrants deeper local roots, strengthening communities and feeding long-term economic growth.
Regardless of whether you agree about citizenship, it's hard to argue with David Borris, the owner of Hel's Kitchen, a Northbrook (Ill.) catering company with 25 full-time employees and 80 part-time and seasonal workers, and a steering committee member for the Main Street Alliance. "Small business owners' top concern is the need for more customers," he says.
Before it's here, it's on the Bloomberg Terminal.
LEARN MORE