Judge Dismisses One Lawsuit Against Hedge Fund Founder John Paulson
By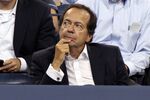 On March 29, one cloud that has been hanging over John Paulson, the founder of hedge fund Paulson & Co., finally lifted: A federal judge in Miami agreed to dismiss a class action lawsuit filed against the firm in 2012 by investor Hugh Culverhouse. The lawsuit had accused Paulson of failing to conduct adequate due diligence on his investment in a Chinese forestry company called Sino-Forest in 2011. Sino-Forest's stock then plummeted and Canadian securities regulators filed fraud charges against the company, which led to around $100 million in losses for Paulson's Advantage fund. The firm said Culverhouse's suit was without merit.
Paulson became famous after making billions of dollars shorting the housing market in 2007, after which new investors piled into his funds, which grew to more than $30 billion. His fortunes shifted in 2011, when his two largest funds, Advantage and Advantage Plus, plunged 36 percent and 52 percent, respectively. The double-digit losses continued through last year. "We had built up a great track record—in 18 years, we only had two down years, one of which was last year," Paulson told me at the time. "That drawdown was disappointing, but you can't think about the past. You have to think about the future."
This year, Advantage and Advantage plus were respectively down 2.5 and 3.5 percent at the end of February. Not long afterward, Bloomberg News reported that Paulson was contemplating moving to Puerto Rico in order to reduce his taxes, scoping out lavish San Juan homes that could accommodate his wife and their two daughters. Paulson later issued a statement backing away from the plans.
Culverhouse's suit raised interesting questions for hedge fund investors, especially those who invest in hedge funds through "platforms"—essentially pipelines into hedge funds offered to smaller investors by major banks such as Citigroup and Morgan Stanley. A legal question at the heart of the suit centers on whether the bank platform, or the fund to which it has funneled investor money, may be liable for losses. A complete written order is not yet available, but Judge Marcia G. Cooke wrote in a summary that she was granting Paulson's motion to dismiss the suit on the grounds that the plaintiff "lacks standing to bring the instant litigation and claim a fiduciary relationship" with the defendants.
A spokesperson for Paulson & Co. declined to comment until the judge's full order is available. Culverhouse, meanwhile, is troubled by the judge's decision to notify the parties about the ruling over Easter weekend, an unusual move from a timing perspective. "It is a violation of every principle of American jurisprudence to issue something on a holiday," he says. "It's more than strange."
Paulson also requested this week that a judge dismiss a second lawsuit filed against the firm regarding its involvement in Abacus, a collateralized debt obligation it invested in through Goldman Sachs in 2007. The CDO was allegedly designed to fail so that Paulson could bet against it. Paulson has denied the charges.
Before it's here, it's on the Bloomberg Terminal.
LEARN MORE