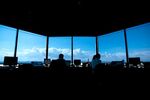 A little more than a month into the nation's experiment with across-the-board budget cutting, economists at Goldman Sachs said today that the impact has been limited. That's partly because congressional action eliminated some of the worst pinch points. Goldman still expects sequestration to reduce the economy's growth rate by 0.6 percentage point this year, going from the last quarter of 2012 to the last quarter of 2013.
The sequestration of $85 billion in spending authority had the potential to be more disruptive than a typical budget cut of the same magnitude because it didn't spare any government functions, even ones such as food inspection, border patrol, and air traffic control that could slow commerce.
In its continuing resolution, Congress softened some of the sequester's hard edges. For example, under pressure from Senators Roy Blunt, a Missouri Republican, and Mark Pryor, an Arkansas Democrat, Congress added some funds for food inspection so meatpackers and other food processors would not be forced to shut down. The Department of Defense won legislation that enabled it to start more than 100 planned construction projects and reallocate some funds to critical operations and maintenance.
The chart prepared by Goldman Sachs from Department of Treasury data shows a slight slowdown in federal spending since the sequester took effect. The effects on the labor market "are even harder to find in the data thus far," Goldman says.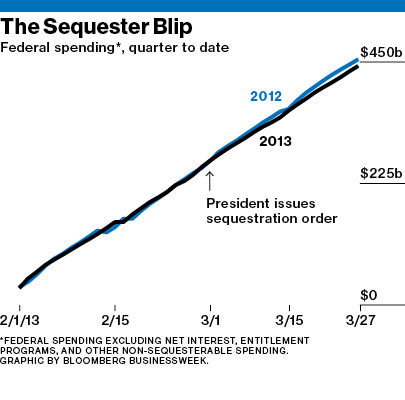 Goldman political economist Alec Phillips, who wrote the report, noted in an interview today that there's a whole new sequester starting in the 2014 fiscal year, which begins on Oct. 1. Unlike the 2013 one, though, cuts are not across-the-board; agencies can make them in the least painful way possible. Also, the sequestration rules contain an exemption from spending caps for emergency spending, so agencies have an incentive to declare more emergencies. Says Phillips: "One might imagine there would be a little bit of leakage" from that.
Before it's here, it's on the Bloomberg Terminal.
LEARN MORE