Furniture That's Loud and Pretty Proud
by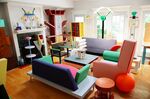 You'd be forgiven for thinking this furniture is hideous. The colors alone seem closer to a warning than something suitable for, say, upholstering a couch.
After looking for a while, the shapes might grow on you. The colors may be loud, but the materials are high quality and durable. And credit where credit's due: it was built to last. Thirty years later, it still stands out amidst a sea of milquetoast IKEA furniture.
This is the work of the Memphis Group, an Italian design collective founded in 1981. Comprised of architects and designers, their work was intended as a response to the sleek minimalism of the 1970s. And what a response it was. Bertrand Pellegrin aptly called it "a shotgun marriage between Bauhaus and Fischer Price."
Even the designers understood that they weren't creating furniture to fill your house. "Memphis is like a very strong drug," said Ettore Sottsass, founder of the Memphis Group. "You cannot take too much."
With that in mind, a subtler piece, like the Carlton bookshelf , is something most people could happily have in their apartment, if they've got $11,000 to burn on a piece of furniture. Another draw: with low demand, there's enough of the group's furniture out there. In other words, it may be loud, but not everybody's hearing it.
James Tarmy reports on arts and culture for Bloomberg Muse , the arts and leisure section of Bloomberg News.

Before it's here, it's on the Bloomberg Terminal.
LEARN MORE