Florida Atlantic University Backs Off on Naming Its Stadium After a Prison Company
Turns out people don't like the idea.
By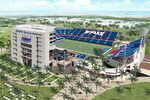 The publicity generated by Florida Atlantic University's plan to name its stadium after a for-profit prison company, GEO Group, was not what either organization bargained for, and the deal is now off. As we noted in February, the school received a $6 million gift from GEO. And GEO got a little bit of brand burnishing. At least, that was the plan. Mostly they both got a lot of negative reactions, including a campus protest on Monday. After the demonstration, FAU announced that GEO has withdrawn its gift. "What was originally intended as a gesture of GEO's goodwill to financially assist the university's athletic scholarship program has surprisingly evolved into an on-going controversy and considerable distraction to both of our organizations," GEO Group Chairman and Chief Executive Officer George Zoley wrote in a letter.