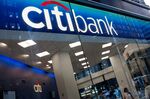 As developers rushed to build wind-power plants last year before U.S. tax credits were set to run out, California's Solano Wind Project was racing against a different deadline: getting turbines running for the state's most blustery months.
The Citigroup Inc.-backed wind farm succeeded. In May, it began delivering enough new power for 44,000 homes, an effort that helped New York-based Citi bump Banco Santander SA from its perch as the world's greenest bank, Bloomberg Markets magazine will report in its May issue.
"There was a huge push in the U.S. last year to get wind projects done before the tax credit expired," says Marshal Salant, head of alternative-energy finance at Citigroup, which rose from No. 4 in the previous ranking. Congress on Jan. 1 extended wind incentives for one year.
Spain's largest bank, which had topped the Bloomberg Markets ranking for the past two years, slipped to No. 2 for
2012. Banks across Europe cut clean-energy investments 11 percent to $269 billion as losses spread from Greece to Santander's home turf.
Zurich-based Credit Suisse Group AG bucked the trend. It leapt to No. 5 from No. 21 after advising SolarCity Corp., the biggest owner of residential solar systems by market valuation, in a December initial offering that raised $92 million. After Germany reduced renewable-energy subsidies, Deutsche Bank AG looked elsewhere. Europe's biggest bank by assets advised California's SunPower Corp. on its $165 million acquisition of French panel maker Tenesol SA, moving up eight spots to No. 7.
Wind Power
Wind propelled JPMorgan Chase & Co. and Morgan Stanley into the top 20, after the New York megabanks missed the cut for
2011. U.S. wind-turbine installations rose 28 percent last year, making wind the biggest new generator of American electricity, leapfrogging all other sources -- renewable and fossil -- for the first time.
The third annual ranking assesses banks based on their lending to clean-energy projects and reduction in their own power consumption and carbon footprints.
American banks benefited from a financing technique known as tax equity, which allows investors to buy stakes in the tax credits a wind farm collects. The current ranking considered tax equity, which has existed for two decades, for the first time.
JPMorgan Jumps
JPMorgan jumped to No. 3 from No. 22, aided by tax-equity investments in four U.S. wind farms. It also revamped its Park Avenue headquarters in New York, where energy-saving lights now dim automatically and a 54,000-gallon (204,000-liter) basement tank collects rain for flushing toilets and watering plants.
Wind projects will slow in 2013 as developers hunt for new contracts and seek construction permits, says Stefan Linder, an analyst at Bloomberg New Energy Finance. Power generation at U.S. wind sites may plunge to 2,800 megawatts from 13,000 megawatts last year, he says.
"Solar projects should pick up some of the slack," he adds.
Bank of America Corp. failed to repeat the solar-investment bonanza that boosted it to No. 2 in 2011: It skidded to No. 23.
"The lack of large solar deals in 2012 is not indicative of a pullback," according to spokeswoman Britney Sheehan, who says the company is devoting resources to solar energy.
Japan emerged as a bright spot in replacing reactors with renewable sources after the country's worst ever nuclear accident rocked the Fukushima Dai-Ichi compound in 2011.
Solar Japan
Mitsubishi UFJ Financial Group Inc. expects the nation's solar investments to be worth as much as $19 billion through 2016, surging from $2.4 billion in 2012. Mitsubishi rose to No. 4 from No. 6; Mizuho Financial Group Inc. and Sumitomo Mitsui Financial Group Inc. also inched higher.
The biggest gain in renewable energy came from a newcomer: South Africa's Standard Bank Group Ltd. ranked 12th after agreeing to underwrite $1.1 billion in government-approved projects, including $314 million for solar parks.
As Europe scales back and the U.S. regroups, such initiatives may become the seeds that sustain growth in the green landscape.
* * *
How We Crunched the Numbers
To rank banks' environmental records, Bloomberg Markets looked at their efforts to reduce their own waste and carbon footprints and at their investments in clean energy.
Bloomberg New Energy Finance and Bloomberg's ESG Data group, which collects information on environmental, social and governance issues, gathered material from annual and corporate social responsibility reports, websites and other public documents. The teams conducted independent research and used surveys and telephone interviews to secure additional data and verify the accuracy of their findings.
We started with banks covered by the ESG team that are members of predominant national benchmark indexes, such as the Standard & Poor's 500, FTSE 350 and Nikkei 225 Stock Average. We narrowed the universe to 62 banks in 23 countries by eliminating those with market capitalizations of less than $10 billion as of Feb. 25 and those with insufficient available information on their environmental activities.
In the opportunity category, which tallies clean-energy investments and accounts for 70 percent of the score, we assessed banks' support for clean-energy projects in 2012. We considered wind, solar, geothermal, hydro, biomass/biofuels and related technologies. We divided the efforts into public- and private-equity investments, debt issuance, advisory services and tax equity. We ranked the projects from highest to lowest based on the total installed electricity-generating capacity of the investments in megawatts, total dollars invested and total deal count.
Environmental Impact
The second consideration, reducing environmental impact, accounts for 30 percent of the score. We looked at reductions in air emissions and water use and at gains in energy efficiency. We used a three-year-momentum approach, with the most-recent data receiving the greatest weight. Banks with more-aggressive and more-mature programs and with measurable, multiyear declines in greenhouse gas emissions and water and energy consumption earned the most points. Banks that disclosed more data got more credit.
Each data point is peer ranked on a scale of zero to 100. For example, in underwriting activities, the banks reporting the highest-dollar-value deals received the highest scores. Those scores were then multiplied by the weight factor assigned to that category to determine the overall value in the section. This was done for every grouping to determine a total score for the opportunity and environmental impact categories.
Before it's here, it's on the Bloomberg Terminal.
LEARN MORE