Undergrad Ranking: Top B-Schools for Internships
Geoff Gloeckler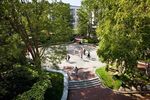 When it comes to hiring undergraduate business students, employers look for a few things. Good grades are important, as is campus involvement, preferably with a leadership position or two. But the most valuable section on the résumé is work experience, which, for a college senior, most often comes in the form of an internship or co-op.
When Bloomberg Businessweek started ranking undergraduate business programs, in 2006, only 55 percent of students reported having at least one business-related internship. For the Class of 2013, that number has jumped to 73 percent, and at many schools, it's much higher. Today we look at the 10 undergraduate business programs where the most students boast that highly valuable internship experience, led by Northeastern University's D'Amore-McKim School of Business.
For more than a century, Northeastern has offered a cooperative experience, or co-op, program in which students get at least a year of relevant work experience before they graduate, broken up into two or three six-month cycles. The business school works with more than 600 companies, including General Electric, PricewaterhouseCoopers, Staples, and Ernst & Young, to make sure each student who wants a co-op gets one. Co-op cycles run from January to June and July to December. Most students graduate with at least two.
Thanks to the program, 97.5 percent of business students at Northeastern will graduate with some work experience, according to a recent student survey administered by Bloomberg Businessweek. "The co-op program is one of the most significant advantages that Northeastern students have over students of other universities," says Joseph Bocccardo, a senior business student at the school who has had co-ops at IBM in Costa Rica and at the digital marketing agency Greater Than One in Madrid, Spain. "Not only does it enable us to graduate with more than a year's worth of real work experience, but it provides us with a significant base of connections in our professional network and starts us out in the job market with plenty of interview practice under our belts."
After Northeastern comes North Carolina's Kenan-Flagler Business School, where 94.5 percent of seniors report having at least one business-related internship. Undergrads at Kenan-Flagler benefit from having access to the B-school's career office, in addition to the services offered by the university's career office. Business students seeking internships have the option to take part in career treks, where they will visit companies in such cities as Atlanta, New York, and Washington, D.C. Additionally, the school offers executive coaching to undergrads to prepare for the internship hunt. With the help of a group of semiretired executives, students experience such activities as mock interviews, career coaching, and life coaching.
Villanova's School of Business, Michigan's Ross School of Business, and Pennsylvania's Wharton School round out the top five.
Top Undergrad Business Programs for Internships
| | | |
| --- | --- | --- |
| 1. | Northeastern | 97.5% |
| 2. | North Carolina (Kenan-Flagler) | 94.5% |
| 3. | Villanova | 94.4% |
| 4. | Michigan (Ross) | 93.8% |
| 5. | Pennsylvania (Wharton) | 93.7% |
| 6. | Cornell (Dyson) | 93.2% |
| 7. | NYU (Stern) | 93.1% |
| 8. | Boston College (Carroll) | 93.0% |
| 9. | Richmond (Robins) | 92.1% |
| 10. | Ohio Northern (Dicke) | 91.7% |
Join the discussion on the Bloomberg Businessweek Business School Forum, visit us on Facebook, and follow @BWbschools on Twitter.
Before it's here, it's on the Bloomberg Terminal.
LEARN MORE