New German Diesel Cars Will Have to Race Detroit's Hybrids
by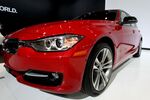 German carmakers made a big buzz last week, when they announced a major shift to diesel engines in their lines of U.S.-bound BMWs, Mercedes, and Audis.
Detroit's Big 3 automakers are only dipping toes in that market. They probably can't catch up with the Germans' huge lead in the diesel game, but it's not likely they have to.
As it is, hybrids have already become the more popular choice for fuel-efficiency and low emissions. Currently, about 3.6 percent of vehicles sold in the U.S. run hybrid technology, compared to 3 percent that run on diesel fuel, according to Jeremy Acevedo, an analyst at Edmunds.com.
"Personally, I think diesel is facing really steep competition in this country," Acevedo said "Diesel, at best, could approach 5 percent of the (U.S.) market in five years."
In spite of its fuel efficiency, diesel still has many of the same drawbacks it has always had. Primarily, diesel-burning engines still cost a few thousand dollars more than traditional gas offerings because they need to withstand greater stress. Diesel fuel is also more costly, currently 6 percent more expensive than low-octane regular, on average.
At the same time, the benefits—namely, stellar mileage—aren't as pronounced as they used to be, especially when compared with the new hybrids. "When you start breaking it down, you're going to get 40 miles per gallon if you are buying a [ticker symbol="GM"]Chevy[/ticker] Cruze hybrid, so what's the advantage in paying a bunch more money to buy a Cruze diesel?" Acevedo said.
Though diesel will probably remain a niche in the U.S. market for the foreseeable future, the new wave of German offerings will attract affluent buyers who don't want to sacrifice muscle for mileage. Rebecca Lindland, an automotive consultant with Rebel Three Media & Consultants told Bloomberg: "There's only so much downsizing a luxury buyer is going to tolerate."
American and Asian diesel offerings just don't have the same swagger. "There's just something a little bit cool about it—a European hipness," Acevedo said. "Domestic automakers aren't going to have that in their corner. And it's definitely not the same people flocking to the Prius."
Before it's here, it's on the Bloomberg Terminal.
LEARN MORE