Judge Lets Stockton Stay in Bankruptcy, and Creditors Tremble
By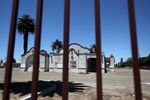 A federal judge ruled on Monday that Stockton, Calif., can stay under bankruptcy protection, a decision that puts Stockton on the path to becoming the first city since the 1930s to force truly big losses on its creditors.
Over four days last week, U.S. Bankruptcy Judge Christopher M. Klein heard testimony that will decide who will pay for the bubble-era excesses that included the construction of Stockton's waterfront arena and yacht slips. The hearing technically concerned whether the city met the criteria for filing for Chapter 9, a type of bankruptcy reserved exclusively for municipalities. Bondhonders challenged whether the city was truly insolvent and whether it negotiated with creditors "in good faith," both of which are required to get bankruptcy protection. If the judge had agreed, bondholders could have filed suit in state court, which would have made it easier for them to force the city to raise taxes, sell assets, and lower pension payments.
The judge did not agree. He rejected both of the bondholders' arguments, saying the city "by any measure" was broke and that it was the creditors, not the city, who had failed to negotiate. "Negotiation is by definition a two-way street," Klrin said. "You cannot negotiate with a stone wall."
The case could set a precedent for other struggling towns, which would aid pensioners but raise risks for lenders, thereby increasing the costs for cities to borrow. As Bloomberg News reports, "No city or county since at least the 1930s has used the power of a U.S. bankruptcy court to force a reduction in its debt principal." Two other cities—Jefferson, Ala., and San Bernardino, Calif.—have already petitioned for Chapter 9 protection. No doubt they—and their creditors—had their eyes on the outcome of this case.
Before it's here, it's on the Bloomberg Terminal.
LEARN MORE