Will He Flip? And Other Questions About the Arrest of SAC Capital's Michael Steinberg
By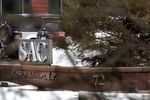 Less than 24 hours after a U.S. District Court judge declined to approve SAC Capital's $602 million settlement with the Securities and Exchange Commission, one of Steven A. Cohen's top deputies, fund manager Michael Steinberg, was arrested at his home and charged with five counts of conspiracy and securities fraud. If doubts remained, it confirms that the government's probe of SAC is wide, deep, and very much ongoing.
According to Bloomberg News:
Steinberg, 40, worked at SAC's Sigma Capital Management unit and is the most senior SAC official to be charged. He was one of 15 portfolio managers handling technology, media and telecommunications stocks before being placed on leave in September, said a person with knowledge of the matter. He faces as long as 20 years in prison if convicted.
Steinberg's lawyer, Barry Berke, said in a statement that his client did nothing wrong and was "caught in the crossfire of aggressive investigations." Still, his arrest raises at least three big questions:
What happens to SAC's proposed settlement with the SEC? Yesterday, U.S. District Judge Victor Marrero declined to approve the deal, expressing concern that it allowed SAC to "neither admit nor deny" guilt, especially considering one of its former portfolio managers, Mathew Martoma, still faces charges.
"How would it look if, in the settlement before [a Martoma conviction], the parties were allowed to say, 'We did nothing wrong?'" Marrero asked.
Will Steinberg flip? "We have been remarkably successful in convincing persons to cooperate with the government, and provide evidence to us, and in a court of law," said Robert Khuzami, the director of the SEC's enforcement division, during a November press conference to announce the charges against Martoma. "You cannot trust your partners in crime to keep your secrets." Martoma so far is not known to be cooperating, but Steinberg may be a different story: After all, he faces up to 20 years in prison.
Can investors ignore this? This morning's predawn raid may well have rattled remaining investors, who are now allowed to withdraw one-third of their funds every three months, a limit that was increased from one-quarter in February in a bid to calm investors.
Reuters reported in February that investors had requested $1.7 billion of the fund's $14 billion under management. The next redemption window opens in May, and current investors will be able to pull out all of their SAC funds by the end of the year.
Before it's here, it's on the Bloomberg Terminal.
LEARN MORE