The B-School Revolving Door
Francesca Di Meglio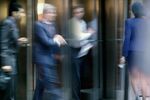 While the vast majority of MBA graduates go to work at banks or consulting firms, a small group ends up right back where it started: working for the university that awarded their degrees.
In 2012, at least 40 graduates of 15 MBA programs in the U.S. and abroad were hired by their universities immediately after graduation, according to data supplied by the schools. The University of Rochester's Simon School of Business hired five MBAs, and Michigan Technological University's School of Business & Economics hired six, more than any other school that supplied the data to Bloomberg Businessweek. Adrienne Nardella, a spokeswoman for Simon, declines to comment. Jim Turnquist, director of career services at Michigan Tech, says all six Michigan Tech MBAs hired by the university in 2012 were previously employed by the school.
Since the data supplied by the schools are for the top 15 MBA employers only, many more 2012 MBA grads may in fact be working for their alma maters who never got reported, particularly at top schools with an abundance of big employers.
The practice, while little known, is not new, but what makes the B-school revolving door interesting is that it's a departure for most universities. Few schools make it a practice to hire their own PhD graduates for faculty jobs, at least not until they've gotten a few years, and a decent publication record, under their belts.
Stuart DeCew earned his joint degree from the Yale School of Management and School of Forestry & Environmental Studies in 2011. While he sought jobs at startups and even worked on creating a business with fellow students, he ended up becoming the program director of the Yale Center for Business & the Environment immediately after graduation.
As a student, DeCew was very much involved in the center, helping to launch a speaker series related to energy efficiency, among other things. When the outgoing director approached him about taking over, DeCew says he "jumped at the chance."
"I get to be around people who are both aspirational and practical," says DeCew. "They have real concerns about the world and want to change it."
Of course, few people go to business school with the goal of landing a job in the academic world—for most, it's a plan B at best. Academic jobs typically pay less than those in banking, which pay $138,164 at Harvard Business School, or consulting, which pay $129,470 at Wharton, making it that much more difficult to repay student loans.
"I thought the next step would be somewhere else," says Elizabeth Hogan, who was hired as the director of alumni relations at Duke University's Fuqua School of Business when she graduated from the school with an MBA in 2004. "But I was an older business school student. You know who you are and what makes you happy."
For Hogan, happiness meant staying at her alma mater, she says. In 2007 she took on the job of associate dean for global marketing, which she says makes use of the marketing and soft skills—such as influence and persuasion—she learned as a Fuqua student.
The competitive advantage of hiring the minds you molded is probably not a secret among business schools, says Jo Mackness, executive director of the Center for Responsible Business at her alma mater, UC Berkeley's Haas School of Business. Returning to the business school after five years working in corporate responsibility for Ernst & Young, Mackness says she had a built-in network and a deep history with the center because she had been around as a student when it was first being launched.
"The schools get a double commitment. They get smart MBA graduates and the special sauce, an added level of commitment that comes with being an alum," she says.
Even more alumni return to the business school after gaining a few years experience in industry. For instance, 25 Tepper School of Business graduates work on the Carnegie Mellon University campus, including four MBAs and two PhDs working in staff roles at Tepper itself. At information sessions, more applicants are showing interest in higher education, says Ted Curran, a 2004 graduate of Tepper and its executive director of finance.
"This trend will grow because of the exciting changes in higher learning," he says. "The skills needed to make these things happen and have success are MBA skills."
Join the discussion on the Bloomberg Businessweek Business School Forum, visit us on Facebook, and follow @BWbschools on Twitter.
Before it's here, it's on the Bloomberg Terminal.
LEARN MORE