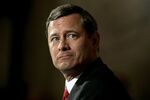 As Us Weekly might gush, Supreme Court justices are just like us! They may don majestic robes at work and set the law of the land, but they, too, can be victims of cybercrimes.
Chief Justice John Roberts on March 26 paid cash at a Maryland Starbucks. He told the cashier he usually pays with plastic, but his credit-card number had been stolen, so he canceled the card, the Washington Post reported.
Roberts joins the more than 12 million Americans who are victims of identity fraud each year, according to a report from Javelin Strategy & Research. "This equates to 1 incident of identity fraud every 3 seconds," the report says. Javelin calculates that in 2012, thieves stole more than $21 billion.
Brian Krebs, who blogs about digital security at Krebs on Security, has documented the countless ways thieves access credit-card data: They hack payment providers, use botnets to capture passwords, skim numbers and passwords when unsuspecting users take cash from ATMs, and buy and sell the ill-gotten info on underground marketplaces.
A particularly rich source for thieves are data breaches, when hackers steal info such as credit-card and Social Security numbers that they can use to run up charges or open new lines of credit. If companies learn their databases have been hacked, they usually alert their customers and suggest keeping an eye on their accounts for suspicious activity. Still, Javelin estimates that 1 in 4 people who are told their data is stolen in a breach later have their identity stolen.
There is a silver lining. In 2010 identity thieves were able to misuse personal data for 94 days, but in 2012 that number dropped to 48 days, Javelin found. Companies and consumers have become better at spotting and stopping fraud once it starts and doing as Roberts did—canceling the card and paying with cash.
Before it's here, it's on the Bloomberg Terminal.
LEARN MORE