Post-NBA, David Stern Eyes China
by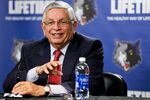 In 1983, when NBA general counsel David Stern moved into the commissioner's office, the league was a struggling enterprise. Its regular-season television contract with CBS included just three games, and the championship was broadcast on tape delay. "By the time LeBron James came to the NBA, he had probably been seen more in high school than [Bill] Russell and Wilt [Chamberlain] had been seen in the NBA," Stern told Bloomberg Businessweek editor Josh Tyrangiel on Thursday night at New York's 92nd Street Y.
For the most part, Stern recalls this pre-Michael Jordan era of basketball fondly, with perhaps one notable exception: his choice of facial hair, a look still commonly referenced on sports blogs. "[I wore] the mustache because in 1984 I wanted to look younger," he confessed. "And when it came in white, I decided that it wasn't good. I looked like Juan Valdez."
Three decades later, Stern's achievements as the NBA's chief executive are undeniable: He oversaw expansion (seven new franchises), an explosion in revenue growth, larger television contracts, and the founding of the WNBA. He spearheaded the NBA's global outreach and served as its most tireless salesman, which is a particular point of pride.
"We were hell-bent on being all over," he says. "I would go anyplace. If it was a television show, they would say, 'What are you doing here?' I would say, 'We're the largest producers of programming in the world.' I changed my tune at Davos. I would say, 'We're the largest producer of reality programming in the world. We produce 1,300 episodes a year.' We were always pushing it. By now we've played something like 125 games outside of the U.S."
Last year, Stern announced that he would be retiring in 2014. And for much of his conversation with Tyrangiel—part of the 92nd Street Y's "Captains of Industry" series—Stern spoke as a man looking back. He remembered his first NBA draft: "We took over an Italian restaurant. I commented to the guys, 'Do you think we could find a restaurant where part of the ceiling isn't lower so our players can stand?' That's when I discovered that micromanagement was vastly underrated."
He recalled Magic Johnson's 1991 press conference when the NBA Hall of Famer revealed to the world that he had tested positive for HIV. "Magic's going to die," Stern said he thought at the time. And he talked about his excitement when the Houston Rockets drafted Chinese seven-foot center Yao Ming, in 2002, which he considers the turning point for the game, when basketball had evolved into an international language of diplomacy. "But let's leave Dennis Rodman out of this," he added.
Stern admits to checking Twitter twice a day, and though he doesn't have an account of his own, he says Metta World Peace is a frequent source of entertainment. "I'm not sure [Twitter] is quite my thing, but it's my business's thing, and it's my business's cultural thing, so we sweep it and we know exactly what the conversation is."
Pressed about his post-NBA plans, Stern briefly mused about life as a dictator. "If I can have a job that could entail enacting legislation by me instead of depending on both houses of Congress, that would actually be something that would be good for the country," he says. (But when reminded that City Hall in New York will soon need a new mayor, he replied, "I'm not crazy.")
He is considering more realistic alternatives, "including continuing outside the U.S. and being available in any way I can to help the growth of the sport," he says. "China is the go market, from General Motors to the NBA. We have offices in Hong Kong, Shanghai, Beijing. China is terrific as an opportunity."
He then added: "[And] they appreciate white hair in China."
Before it's here, it's on the Bloomberg Terminal.
LEARN MORE