No More Mr. Nice Dolphin: Miami Unveils a New Logo
Paul Lukas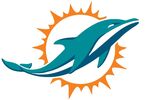 The National Football League Draft will take place in late April, and several teams are planning to unveil new uniforms and logos for the occasion. One team has gotten a head start: After a series of leaks, rumors, and enough geeky Internet speculation to make a Star Trek convention look tame by comparison, the Miami Dolphins have confirmed that a widely circulated image is indeed the team's new logo.
The Dolphins say the logo is the first step in "a complete re-branding," which is the kind of thing you tend to say to your fan base when you've had four consecutive losing seasons, going a cumulative 27-37 over that span. The makeover will include new uniforms to be unveiled on April 18.
So what does the redesigned logo tell us about the team's new aesthetic direction? First and foremost, it's a further nail in the coffin of the "cute sporty mascot" style that dominated sports design in the 1950s, '60s, and '70s. But while most animal-based teams have upgraded to fiercer-looking logo characters—lots of furrowed brows and gritted teeth, supposedly to intimidate the competition—the Dolphins have staked out a middle ground with their new mark. Neither playful nor piqued, the new logo feels mature. It's like a young pup that has come of age. It would make a great logo for an aquarium, although we'll have to wait to see the new uniforms before we can assess how well the image works for a professional football team.
The uniforms, not surprisingly, are being made by Nike, whose history of envelope-pushing design has many Dolphins fans hoping for a space-age reboot. (It's worth remembering that Nike also makes plain-Jane uniforms for Penn State and Alabama.) The uniform design is ultimately up to the client—in this case, Dolphins Chief Executive Officer Mike Dee, who has been mum about the new togs.
Fan response to the new mark has been mixed, with Internet polls run by several media outlets showing a slight preference for the old design. One complaint that's emerging is that the dolphin on the new logo doesn't look "football-y" enough because it doesn't have a helmet. One fan, Joe Hilseberg, has already taken matters into his own hands and Photoshopped a helmet onto the new design. This still wouldn't solve the problem that plagued the old logo: The helmet shouldn't have an "M." It should have a Dolphin wearing a helmet with a dolphin wearing a helmet, ad infinitum.
Now that would intimidate an opponent—or at least trigger a seizure.
Before it's here, it's on the Bloomberg Terminal.
LEARN MORE