Craft Brewers Float a Tax Cut. Mega-Brewers Want In
by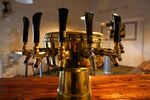 Craft beer makers are seeking a federal tax cut that would halve what most of the 2,300 or so brew pubs and small breweries in the U.S. pay the government for each barrel they produce, according to a New York Times article published yesterday:
"Small breweries, producing fewer than two million barrels a year, pay $7 on their first 60,000 barrels. For every 31-gallon barrel above 60,000, they pay $18. Only about 100 craft breweries in the United States produce more than 15,000 barrels a year. About 95 percent of craft breweries and brew pubs produce less than that. Bigger brewers, like Anheuser-Busch InBev, which produced 98.5 million barrels in 2011, pay $18 for every barrel.
"The Small BREW Act would reduce the tax on the first 60,000 barrels to $3.50. For every barrel beyond 60,000 but before two million, the tax would be $16. After two million, breweries would pay the full $18 tax. Any brewery that produces fewer than six million barrels a year—which includes the bigger craft players, like the Boston Beer Company, maker of Samuel Adams, which turned out 2.7 million barrels last year—would be eligible for the tax reduction."
Well, who doesn't want to pay less in taxes, particularly in these times when federal spending cuts are taking a big bite out of some small businesses' bottom lines? Indeed, large breweries are also seeking lower taxes. Nor does the Small BREW Act lack for opponents. As the Hill reported this week, others in the fermented-beverage business don't think the time is right for a tax cut, including a lobbying group backed by Anheuser-Busch InBev and MillerCoors, which plans to oppose the small brewers and instead pursue a bill that would lower taxes for all beer makers.
Of course, there's a difference between small brewers and most other businesses, including their larger competitors: Craft beer is almost universally loved, not just in bars across America, but also by investors and in the halls of Congress, where 116 representatives belong to the House Small Brewers Caucus.
Before it's here, it's on the Bloomberg Terminal.
LEARN MORE