After Cyprus, the EU's Attention Turns to Tiny Luxembourg
By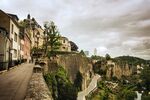 It's getting hot in Luxembourg, a nation that's something like Cyprus on steroids. Its population is smaller and its banking sector is bigger. If you thought it was risky for banks in Cyprus to have assets about eight times the national gross domestic product, then what is one to make of Luxembourg, where the multiple is nearly 23?
Worryingly for Luxembourg, there's a new idea afloat that European Union nations, even small ones, should take responsibility for saving banks operating within their borders, instead of falling back on the EU for help. This week, Dutch finance minister Jeroen Dijsselbloem, who is president of the euro zone group of finance ministers, had tough words for the likes of Luxembourg and Malta in a joint Reuters-Financial Times interview:
Deal with it before you get in trouble. Strengthen your banks, fix your balance sheets, and realize that if a bank gets in trouble, the response will no longer automatically be: We'll come and take away your problems. We're going to push them back. That's the first response that we need. Push them back. You deal with them.
Dijsselbloem later said that he did not intend to say that the original Cyprus plan to tax depositors of Cypriot banks should be a template for other bailouts.
Seemingly in response, the government of Luxembourg warned that the European Union risks hurting financial stability if it moves to isolate banking systems within national borders. "Luxembourg will therefore not adhere to policies that intend to renationalize elements of the single market," the government said in an e-mailed statement, according to Bloomberg News.
In a March 27 statement, (PDF) the Luxembourg government said it is "concerned about recent statements and declarations" on financial systems and the "alleged risks" of over-dependence on banks. It pointed to the "very high solvency ratios" of the mostly international banks, insurers, and asset managers operating on Luxembourg soil.
Luxembourg has a population of about 520,000 people, making it no bigger than Albuquerque, N.M. It relied on financial services for 23.5 percent of its gross domestic product in 2011, the highest proportion in Europe, according to the European Union's statistics office. The figure for Cyprus was 8.9 percent. Assets of its banks are nearly 23 times as big as the national gross domestic product. That compares with a little over eight for Cyprus. Still, Luxembourg's banks are far healthier than those of Cyprus, which were overexposed to Greece.
There's no realistic way for Luxembourg to rescue its banking sector if serious trouble develops. That's why for Luxembourg, shoring up the commitment to shared responsibility for bank bailouts is a matter of life and death.
Before it's here, it's on the Bloomberg Terminal.
LEARN MORE