Will Rupert Murdoch's Topless Page 3 Girls Cover Up?
A fixture of British tabloids, toplessness is under fire
By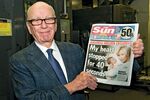 Page 3 girl Poppy and Thomas Jefferson make an unlikely couple. Yet the 21-year-old, who appeared bare-breasted in only a pair of lacy knickers in Britain's No. 1 daily newspaper, the Sun, recently cited Jefferson in defense of press freedom, which certainly benefits a tabloid that features a topless woman every day on its third page. "Where the press is free and every man able to read, all is safe," she counseled legislators from her Page 3 perch. The Sun could use the U.S. founding father's help. A "No More Page 3" campaign to "Take the Bare Boobs out of the Sun" on Twitter, Tumblr, and Facebook has gathered more than 87,000 signatures since September. Following a Twitter barrage against the Sun's owner, Rupert Murdoch, the News Corp. chief even tweeted that he was considering replacing the 42-year-old fixture with shots of "glamorous fashionistas"—who likely would keep their clothes on.