Why Women Are Less Likely to Land Business Loans
By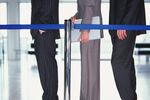 Back in January, Bloomberg News's Danielle Ivory reported that women-owned small businesses were losing ground in the competition for contracts from the federal government. They're also faring worse than their male counterparts in another arena: business lending.
According to a study released yesterday by Biz2Credit, an online matchmaker for entrepreneurs and lenders, women-owned companies were 15 percent to 20 percent less likely to be approved for small business loans during the last six months of 2012.
To arrive at those figures, Biz2Credit analyzed 14,000 loan applications made across its platform during that period. It found women-owned businesses' annual revenues were 15 percent lower than male-owned companies and operating expenses were 21 percent higher. Women-owned businesses' credit scores were 40 points lower, on average.
One explanation for the disparity, says Rohit Arora, Biz2Credit's chief executive: Women-owned companies in the survey were more likely to be retail businesses, which generally have higher operating expenses and lower margins.
Meanwhile, having a loan application rejected can be the start of a vicious cycle. "If you can't get long-term, low-cost money, you're going to wind up at alternative lenders or leveraging personal credit cards," Arora says. Paying higher borrowing costs means less cash flow and, potentially, lower credit scores, which in turns makes it harder to be approved for a loan.