Three Things GameStop Can Teach Retail Executives
by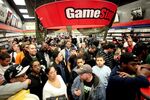 In the brick-and-mortar retail world, it's tough to keep playing, let alone win. Yet somehow, GameStop, by appearances the B. Dalton of video games, keeps coming up with extra lives.
In an Angry Birds era, the company is drawing casual gamers with new mobile and online offerings. Meanwhile, its almost 7,000 stores are keeping hard-core gamers hooked with early release events and high-margin merchandise.
GameStop might still get clobbered. This morning, the company announced lower-than-expected profit guidance for the year ahead on expectations that consumers will delay purchases in anticipation of big releases such as Grand Theft Auto V.
But thanks to its growing digital prowess, GameStop tallied a recent surge in income and margin, despite slumping revenue. And it's expected to get a boost later this year as a new generation of consoles, such as the Xbox, hit markets after a five-year cycle, iterations that traditionally drive spending from both long-time gamers and newcomers.
To survive, GameStop is doing three basic things right:
Cannibalization. GameStop didn't hesitate to undercut its traditional business model. It now collects roughly a quarter of its revenue by selling used games and gaming gear, while less than 20 percent of sales come from new game hardware. At the same time, it leaped into digital with acquisitions, such as Kongregate.com, an online gaming platform it bought in 2010. Kongregate games are free, but GameStop leverages the site's millions of visitors for ad revenue. It has even put digital kiosks in its stores, drawing in gamers who, in turn, buy prepaid online timecards and downloadable games.
Building a community. GameStop has aggressively angled to be the place for gamers, whether that place is on its websites or in a strip-mall. At last count early last year, it had 16 million people hooked on its PowerUp Rewards loyalty program, in which customers earn points for discounts and merchandise and get early access to new games and gear. At the same time, it has blown out its merchandise segment and primed purchases with Game Informer magazine, a play to pump the casual player into a fanboy. And with its thriving pre-owned business, GameStop's best customers are also its best suppliers—a lucrative loop of commerce.
Refusing to borrow. Debt is a powerful financing tool, but when a business model slowly goes bust, bonds can be a big burden. GameStop has a goose egg in long-term borrowings, which has allowed it to make some nimble moves. It also has a $636 million cash cushion, which equates to roughly 15 percent of its assets. If it is has to tap those reserves, GameStop will be buying digital power, not real estate.
Before it's here, it's on the Bloomberg Terminal.
LEARN MORE