The Wu-Tang Clan Might Appreciate These Hip-Hop Street Signs
Rappers like to call out street names; New York artist Jay Shells likes to put their lyrics up at the actual intersections they mention.
By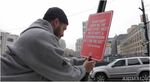 Many hip-hop artists show a fascination with place names rivaled by the cartographers of the Golden Age of Dutch/Flemish mapping.
In "Investigative Reports," for instance, you have GZA rhyming, "Get your pockets dug from all your Chemical Bank ends / Caught him at the red light on Putnam Avenue and Franklin." There's Big L's "Lifestylez Ov Da Poor & Dangerous," which helpfully notes that "On 139 and Lenox Ave. there's a big park / And if you're soft, don't go through it when it gets dark." Mos Def once boasted, "I'm blacker than midnight on Broadway and Myrtle."
New York artist Jay Shells is something of a scholar of all the street corners called out in rap songs. Recently, he embarked on a mission to give these historical landmarks the recognition they deserve (at least in the opinion of rap aficionados). Shells fabricated a series of street signs emblazoned with the corners mentioned in some of the more well-known songs. Wearing a Tim Dog and Kool Keith "Ultra" hoodie, he then posted these odd proclamations in the very locations the rappers referenced, where car parkers can puzzle over them at least as much as they do with traditional New York signs.
Shells' lyrical intervention blends in well with New York's here's-60-signs-in-your-face landscape. Nevertheless, according to a fun documentary filmed by Animal New York, for his trouble he's gotten at least one cease-and-desist letter. (Perhaps that was for posting a rhyme about drugs outside a Brooklyn police station?) But he doesn't seem concerned about the Man, telling Animal, "The good thing with these is I feel like if cops come and say anything, it's kind of easy to talk your way out of this one. Like, 'All right, I'll take it off!' And we come back 10 minutes later and put it back on."
This is not the first time Shells has infiltrated New York's official sign kingdom. A while ago, he did an intervention in the subway system with fake (but oh so necessary) service notices like "Nail Clipping: Under no circumstance is the Subway the right place for this" and "It's a train, not the food court." The artist is now taking requests, so if you have a favorite rap corner you want to see respected, hit him up on Twitter. And should you come across one of these artworks hanging on the block, just snatch that mother. "It's my gift to you," says Shells. "Take 'em."