The Dark Side of Moynihan's CEO-for-Life Goal
by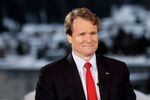 Yesterday, Bank of America Chief Executive Officer Brian Moynihan told Charlie Rose he could see himself steering the massive bank for the rest of his life. He should be careful what he wishes for.
If federal actuarial tables are right, Moynihan, 53, has about 26 years until he goes to the big boardroom in the sky. But the average CEO tenure is still only 8.4 years—with three years down, Moynihan has, on average, a little more than five to go. The odds are good he will live to see his successor.
CEO tenure used to be slightly less anemic. The average is down from in 2000, when it was 10 years, according to the Conference Board. Why the drop? Stronger, more independent boards, as well as more active and powerful shareholders and consumers. In 2000, for example, a $5 monthly fee on debit-card holders would not have generated the level of blog-fueled rage Moynihan had to quell in late 2011.
C-suite terms seem to be particularly short after a recession. In 2003 the Conference Board recorded its briefest average CEO tenure of the past decade: 7.4 years.
"It's the best job there is," Moynihan told Rose yesterday, adding: "You always keep your eye on the purpose you're here. And that's to help people with their financial lives."
Shareholders likely want some help, too. Although Moynihan's charge was a market darling last year, Bank of America's share price is still lower than it was when he took the job.
Before it's here, it's on the Bloomberg Terminal.
LEARN MORE