Slinging in the Rain: Umbrellas Built to Last
by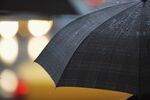 Consider the primary arguments against expensive umbrellas: They (a) seem to run off and disappear and (b) break too easily.
Cheap umbrellas, though, are a lot more expensive than the $10 you shell out for them. First, they're unintentionally disposable. The Internet is stuffed with messages lamenting the fact that cheap umbrellas break on their first use. Let's say that you buy three of these a year on average. Over a ten-year period, then, you've spent $300 on umbrellas with the added feature of wet legs and feet. And all those umbrella skeletons poking out of street-corner garbage cans must exact some cost to society.
Fragility doesn't tend to be a problem for some of the high-end umbrella manufacturers like Fox Umbrellas , Doppler and Swaine Adeney Brigg . These things are expensive—hundreds of dollars. The least expensive full-size Brigg umbrella, made from a bamboo handle with a nylon canopy, is $420, or the equivalent of 14 years of cheap umbrellas, assuming a pace of three cheap ones a year. Change the same umbrella to silk and the price skyrockets to $875, or 29 years of cheap umbrellas.
English-made Brigg's has been in business since 1750, and their umbrellas are considered the gold standard of rain protection. (Prince Charles, for example, is a devotee.) At 25" wide it's still the right size to navigate city streets, but broad enough to ensure that you, and your legs, stay dry. These are the kinds of umbrellas intended to last a lifetime—maybe two. With repairs, Brigg umbrellas dating back to 1915 have been kept in working order.
Now if only the company could prevent umbrellas from disappearing.

James Tarmy reports on arts and culture for Bloomberg Muse , the arts and leisure section of Bloomberg News.

Before it's here, it's on the Bloomberg Terminal.
LEARN MORE