Panera Bread Serves Up a Name-Your-Price Chili
By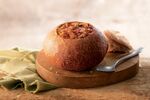 On Wednesday, 48 Panera Bread restaurants in the St. Louis area added a new turkey chili to their menus. The dish, a mixture of vegetables, beans, and antibiotic-free turkey served in a sourdough bread bowl, comes bearing a suggested price of $5.89, but customers can pay whatever they want for it. The menu item is an extension of the company's larger anti-hunger effort.
The chain carefully chose the chili for the pricing experiment because it's a hearty, nutrient-packed dish at 850 calories. "People who are hungry are not just looking for a coffee or a cookie," says Kate Antonacci, Panera's director of societal impact initiatives. "They are looking for something that is nutritious and sustains them over time. We developed this item to have a high nutritional profile." The chili is strong in protein and fiber and includes a side item. "If this is the only thing someone is eating on a given day, it will absolutely fill them up."
Panera Bread has a history of employing pay-what-you-want pricing methods. The company operatees five nonprofit stores called Panera Cares that have entire name-your-price menus. It's a test of self-sustaining community, or "shared responsibility," as the chain calls it—those who pay more than the suggested price will hopefully help subsidize those who can only afford to pay less, or nothing at all. So far, Panera Cares stores are collecting about 75 percent of the suggested price, enough to cover operating costs. Any profit is used for a job-training program.
The cafe chain isn't the first to give consumers the power of naming their own price. In the music industry, Radiohead released In Rainbows as a pay-what-you-want album in 2007. ComScore estimates that 38 percent of people paid, and taken together with those who didn't, the average price paid overall was $2.26 per download. Radiohead disputed the estimate as "wholly inaccurate" but did not reveal sales figures. A 2010 study by a UC-Berkley Haas School professor found that while people do pay more when they know a portion goes to charity, it also meant fewer buyers, as people could not determine what amount would be generous, reported the AP.
Antonacci says the store she was in on Tuesday sold about 15 orders of the chili. If this experiment is successful, Panera might expand it beyond the St. Louis area, though "I don't foresee it being more than one item," she says. "We're running a business."
Before it's here, it's on the Bloomberg Terminal.
LEARN MORE